NO BOYFRIEND OR HUSBAND CAN MAKE ME QUIT ACTING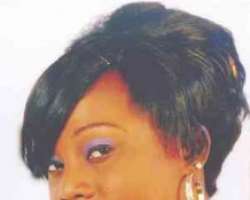 Oyindamola Odesola made a name for herself when she beat 23 other contestants to emerge winner of the last edition of the Next Movie Star reality show that took place between October and November, 2009.
The Covenant University graduate of International Relations told Saturday Punch that she was determined to come out on top. She said, "The experience was very challenging. But it was fun and very educative. At first, I didn't know I was going to win. It didn't cross my mind at all. But eventually, I started thinking of the possibility and here I am. I was a lot different from those that came into the show just to be a part of it and have fun. I was focused."
The pretty and aspiring Nollywood actress admitted that she needed to win at all cost and one of the things she did was to quit her job at Skye Bank. Apart from the fact that she was not getting fulfilment working in the banking hall, she had had to follow her mind and do what she had always dreamed of doing.
"I have always wanted to be an actress. After working in a bank for over a year, I just made up my mind that I was going into acting. Somebody told me about the Next Movie Star show. So I resigned from the bank and entered for the show", she said.
While she was still in the bank, she worked in the marketing department. But it was not because she couldn't meet up with her huge target that made her quit. She said, " I just wanted to do something else and when this opportunity came up, I had to go for it. Even if I was in another department in banking, I would still have left."
Now that she is gradually fitting into her new career, Odesola revealed that 'war' broke out in her family when she made the decision to quit the banking hall for the movies.
Describing how tough it was to persuade members of her family to accept her decision, she said, "I lost my dad when I was three years old. So it was just my mum that took care of us. She wouldn't listen to my explanations when I told her I was going to quit banking. It was war in the house. My uncles didn't want to hear of it. But I had to make them reason with me. I told them this was what I wanted to do."
Eventually when she was able to make her relations to reason with her, Odesola said she started her journey to Nollywood by taking part in the reality show.
"Nothing would have stopped me from acting. Even if I had lost at the reality show, I would still have followed my dream. I am not regretting my move from the bank. I am just happy", she said.
Now that she is no longer depending on a monthly salary, Odesola said she made ends meet through the assistance of members of her family.
She said, "My mum still helps me out. I have people all around me and I know they would be there for me till I am able to stand on my feet.
"I got a car and five thousand dollars and movie contracts. I have not received them, but I know I will get them before the end of the month. Moves are been made to redeem the prizes."
Although she is yet to take part in the first movie, she has started cutting her teeth by appearing in some Yoruba movies. She said,"I will soon be on a Yoruba movie set. Before now I have been attending events and doing shows and granting interview. I intend to do both English and Yoruba movies though for now. I am still concentrating more on Yoruba films."
Odesola said her talent and her determination would pave the way for her in the industry. Apart from that, she said she was not intimidated by the presence of many stars in the Nigerian movie industry and declared: " I am going to do what I know how to do best. I am determined and I am very focused. This is all I know how to do and I am going to keep on doing it and hope that it I will make an impact".
Even as she aims to hit the zenith in her chosen career, Odesola does not appear to be scared of the scandals and controversies that are usually associated with stardom. She told Saturday Punch that she had made up her mind to take everyhting in her stride "I have put my mind to it. Even if you don't do anything, they would still write about me. But I will try as much as possible to behave myself in public so that negative things would not be written about me. I am not going to live above my limits or live an amorous life", she said.
Dwelling on her early life and childhood experience, Odesola said it didn't make much difference in her life that she lost her father at an early age. "My mother made up for that. I am not saying I wouldn't have wished for a father but my mum was a father and a mother to me. We were just two in my house and my mother took care of us so much. I didn't really miss my father that much", she disclosed.
When Saturday Punch asked the pretty actress about the 'Romeo' in her life, she chose to keep mum.
"I don't want to talk about that at least not for now. I don't like discussing my relationships. That is the way I want to keep it. I want my affairs to be private. I am sorry, I will not tell you anything about my relationship", she said.
Whether she has a boyfriend or not, Odesola said she was not going to quit acting even if a partner asked her to do so. "I doubt if I would quit acting for anybody. My career comes first. I am not ready to quit at any cost. I hope to be married one day but I don't think it has to be now. I am more concerned about my career for now and that is what I am facing."
Odesola's role models include Genevieve, Funke Akindele, and Joke Silva. She confessed that she admired these actresses very much and hoped to be like them because, "they know what they want and they take acting seriously as if ther lives depend on it."
Apart from acting, Odesola has another vision. "I hope to have a forum for young people to be able to let them know that you can be what you want to be. It took me a long time to get here. Eventually, I got here and I know this is what I want to do. I want an opportunity to tell young people to follow their desires just as I have followed mine", she says.
Story by Nonye Ben-Nwankwo - NBF News