Oma Djebah Looses Father-In-Law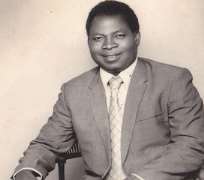 SAN FRANCISCO, April 11, (THEWILL) - Chief Peter Ndego Omede, industrialist, businessman and one of the leading pillars of Ukwauni nation is dead. Chief Omede, father-in-law to Mr. Oma Djebah, former Delta state Information Commissioner and current Senior Foreign Relations Adviser to the Delta state Governor, died at the age of 90 on March 11, 2013 at his country home home in Ebedei, Ukwuani Local Government Area of Delta state.
The late Chief Omede was born in 1923 to the famous family of Odudu in Ukwauni. He had his primary and secondary school education in Sapele also in Delta State before proceeding to Lagos where he ran a flourishing business for 50 years before retiring home to Ebedei, in 1998. A very versatile man and astute businessman, he began his business career with a stint as an Insurance salesman, a field in which he was held with high esteem in Lagos and beyond. He also ventured into mortgage, commodity Trading/ debt collection businesses and he was also a professional secretary in the 1950s, 1960s and 1970s. His secretarial experience provided him his first official job as Secretary to the Turkish Embassy in Lagos. He later expanded his business into the Oil and Gas sector in the 1980s and built petrol stations known as PN Omede Petrol Stations in Ukwuani and Isoko areas of Delta State with the holding company known as Omede Petrol Services. He is also known as the first person from Ukwauni nationality to own and drive a car in 1952 in Lagos.
His business career in Lagos, included a clientele list of what then were blue chip companies; A.J. Seward, Nigeria Ports Authority, Nigeria Airways, Nigeria National Shipping Line, Nigeria Railway, Sheraton Hotels, Bran Monroe and International Telephone and Telecommunications (ITT) .
Chief Omede was a strong Ukwuani cultural and social advocate which led to his establishment of the Ukwuani Society in Lagos where issues that affects the Ukwuani nation and people were discussed and solutions provided. His role as founder and president of the society for several years impacted positively on the Ukwuani nation and was largely responsible for many of the initiatives to maintain the identity and aspiration of the Ukwauni people in Delta state. Chief Omede is the first Ukwuani man to own and drive a car in 1952.
Chief Omede had twelve children from three marriages and is survived by one of the wives, Mrs. Beatrice Omede. A service of song will be held for him on Saturday, April 20, 2013 at the Redeemed Christian Church of God, Festac Town. He will be buried at his home town, Ebedei in Ukwauni Local Government Area of Delta State on Saturday, April 27, 2013.