42-Year-Old Kate Henshaw Wows WOW Magazine Cover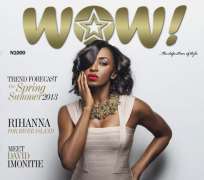 In July 2013, Nollywood actress, Kate Henshaw will turn 42. She is one of the actresses in the industry that has come a long way but still doing well.
Though she is a single mother but that has not weaned the beauty Kate posses. The Akwa-Ibom State born actress still commands a flock of men who want to do everything to have her at 42.
On the cover of the 2013 second edition of WOW Magazine, Kate talks about her two decades in Nollywood. Her commanding beauty surely added colour to the magazine's edition.