Indepth chat with Shameful Deceit star Ikenna Obi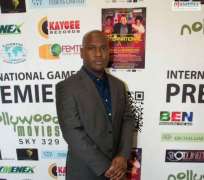 Born in Nigeria & raised in the United Kingdom, Ikenna Obi originally hails from Ubulu Ihejiofor in Imo State, Nigeria, Ikenna is an ambitious & enthusiastic man, who completed a Degree in Law (BA) Hons at Birkbeck University of London.
Even though he excelled in academics, Ikenna also greatly admired the entertainment industry & has great passion & Love for (MMA) Mixed Martial Arts, in particular Muay Thai Kick Boxing where he gives credit to his coach (Abel Martinez) & Brazilian Jiu Jitsu where he gives credit to his coach/founder and owner of London Fight Factory Gym http://www.LondonFightFactory.com (Luiz Manxinha Ribeiro)
He also became a Professional Conflict Resolution Trainer by (CPI) The Crisis Prevention Institute certified under (BILD) British Institute of Learning Disabilities and has been responsible for delivering conflict resolution training sessions to over 7,000 NHS Professionals in the UK.
Ikenna is an ambassador to the less privileged youths & regularly visits Schools, colleges & Youth centres to speak to youths about personal life experiences and echoes the philosophy of:
Never give up on your positive goals in life, without giving it your very best.
Strive to be the best in anything positive you do.

Be a positive epitome to the society.

Focus on your education & try to get a Qualification or Degree in life.
He also discourages gang violence amongst youths & also teaches women how to protect themselves against Domestic, physical violence situations. Ikenna's ambition is to make everyone understand the importance of Education & Working hard towards your goal and ambition.
A chance encounter led Ikenna to be introduced to NollyWood Director George Kelly Toghanro. Incidentally, George was casting for a new movie 'Heavy Mama in London' with Nollywood star Jim Iyke, and was so impressed by his performance that he offered him a role in the movie.
He then took a career break for 4 years to focus on Family.
Ikenna returned with a big break through, during a movie audition for the acclaimed NollyWood movie of 2012 'International Games' shot in London. It was directed by the ever creative & innovative NollyWood director Tchidi Chikere, produced by Rita Nzelu.
He co-starred alongside GhollyWood Philanthropic-Multi- talented actress of our time Jackie Appiah & the NollyWood Prolific, Multi talented & award winning actress Rita Nzelu.
Ikenna came back with a BANG in February 2013 when he was offered a co-starring role in the acclaimed high budget Block Buster movie of 2013 'Shameful Deceit', directed by Ruke Amata from the well renowned Amata Family, Cinematography by Nelson Spyk from IcreateMedia & Produced by the NollyWood PR Guru, Actress/Model Theodora Ibekwe.
Ikenna known as David the mediator, advisor & voice of reasoning to his very close and long time friend, tried to rekindle the relationship between NollyWood veteran Lanre Balogun known as Simon Okoh and PR Guru, dynamic/multi talented award winning NollyWood actress Theodora Ibekwe known as Elizabeth.
NollyWood came calling again at Ikenna's door step in the critically acclaimed, star studded intriguing movie of 2013
'Heartless Carer'

Directed & Produced by Francis Uwadi, Starring Ikenna Obi as Samba & Amazing Actress/Model/Tv Presenter Yvonne Hays as Joy, with special guest appearances by NollyWood PR Guru/Model/Actress Theodora Ibekwe & NollyWood Veteran Actor Lanre Balogun. Also co-starring are the incredibly talented, present and future of NollyWood - Ayo Jerry Ogundipe as Bala, Eleanor Agala as Ruth, Bisi Hassan as Mary. This an innovative Nollywood movie of our Era that promises to be intriguing, filled with suspense, betrayal & sends a message to everyone. Coming to a Cinema near you soon and surely one not to be missed!
Ikenna is in a happy relationship and a Proud Father of Two Lovely Children. He continues to create opportunities for himself in the UK-African entertainment industry.
Achievements:

(CPI) Crisis Prevention Institute - Commendation Award of excellence & Professionalism 2008.
TV Show Featured in:
"Shameful Deceit" Auditioning show (shown on Sky Channel 828)
http://www.thenigerianvoice.com/nvnews/109373/1/ikenna-obi-tries-to-save-lanre-baloguns-failing-re.html
http://m.modernghana.com/mobile/22227/4/ikenna-obi-tries-to-save-lanre-baloguns-failing-re.html
http://lodafriq.blogspot.co.uk/2013/03/ikenna-obi-tries-to-save-lanre-baloguns_8.html?spref=fb
Filmography:
Heavy Mama in London 2008 - Directed & Produced by George Kelly Toghanro.
International Games 2012 - Directed by Tchidi Chikere & Produced by Rita Nzelu.
Shameful Deceit 2013 - Directed by Ruke Amata & Produced by Theodora Ibekwe.
Heartless Carer 2013 - Directed & Produced by Francis Uwadi