ACN Faults Police On Yerima's Arrest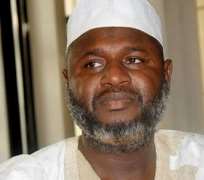 SAN FRANCISCO, March 10, (THEWILL) -The opposition Action Congress of Nigeria (ACN), Sunday, faulted the Nigeria Police over the interrogation of the former Zamfara State governor who is currently a member of the Senate, Senator Ahmed Yerima, for alleged incitement while participating in a programme on the Kaduna national station of the Federal Radio Corporation of Nigeria (FRCN).
Maintaining that the arrest may signal an impending clampdown on the opposition by "an increasingly jittery Federal Government," the party in a statement signed by its National Publicity Secretary, Alhaji Lai Mohammed, described Yerima's arrest as nothing short of budding fascism.
Yerima, who has since been released, had said in the radio interview that there will be a mass protest if the Independent National Electoral Commission (INEC) fails to register the newly-formed All Progressive Congress (APC) after it would have met all legal requirements.
But ACN said Yerima did not say anything extraordinary by threatening a protest, because protests are an integral part of liberal democracy and cannot be wished away or banned by anyone.
''We will like to say, in support of Senator Yerima, that if INEC refuses to register the All Progressives Congress (APC), when all the legal requirements have been met, the protest in Tahrir Square in Egypt will be a child's play compared to what we will do at the Eagle Square.
''We say this because we are aware that the Peoples Democratic Party (PDP) which is mortally afraid of the rise and rise of the APC, is behind the phantom African Peoples Congress which has applied to INEC for registration, in an effort to instigate an acronym crisis and give INEC a reason, if it needs any, not to register the All Progressives Congress.
''But we will like to warn that if indeed INEC has not merged with the PDP, as one of our leaders, Gen. Muhammadu Buhari, has brilliantly said, then we do hope that the electoral body - which by the way is not unaware of the All Progressives Congress as the authentic APC - will not succumb to the evil machinations of the apprehensive PDP,'' ACN said in the statement.
While maintaining that it expects more arrests, investigations by the anti-corruption agencies and other acts aimed at intimidating its leaders in the weeks and months ahead, ACN warned the Federal Government to make sure it had enough prison space to accommodate those it plans to arrest.
''After all, it is generally believed that the recent redeployment of Police Commissioners in the states was done in readiness for the pre-2015 clampdown on the opposition. We know the arrest of Senator Yerima is just a tip of the iceberg, as the PDP-controlled Federal Government gets ready to bare its fangs. But we must warn that fascism can never prevail over liberal democracy,'' the party said.