SARAKI: GOOD AS GOVERNOR, BETTER AS SENATOR, BEST AS...?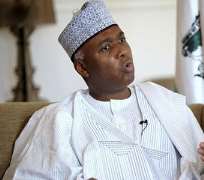 The will of a man is stronger than iron bars and the ultimate measure of man is not where he stands in moments of comfort and convenience, but where he stands at times of challenge and confusing controversy- Nigeria as a nation has been hurtling through tough times accompanied with peculiar challenges. In the face of these controversial times, we have seen various kinds of political leaders take various positions. The position taken by some leaders have kept them relevant and essential in nation building while it has relegated some others to the background never to rise again. Inherently, a quality political leader enjoys the support of the masses and rightly knows their pulse. For selfless people, leadership is thrust upon them as their motives to serve the people and the nation sincerely. They never miss the confidence of the mass public, which makes them most relevant and never thrown to the rubbles; a leader who sees more than others see, who sees farther than others see, who sees before others see and thoroughly carries them along.
From record, long leadership term in Nigeria regress the leadership potentials of leaders. Meanwhile, records are meant to be broken! The leadership career of Bukola Saraki has been highly noted for reasonable and masses oriented development, reforms and policies- leading a state and governors' forum for eight years is primarily based on ever soaring transformational activities.
Good as governor- reforms in Health ranging from building and renovation of primary health centers, establishment of community health insurance scheme, medical diagnostice center, immunisation and polio eradication, malaria-free Kwara programme, Kwara eye care programme to mention a few; Agriculture- establishment of Shonga farms, farmers census, subsidy and credit facilities for small-scale farmers amongst many others; Housing- Generation of 1,551 new homes in Ilorin, Offa, Kaima, Shonga, and Omu Aran, renovation and building of ultra modern markets e.t.c. good governance and thorough accountability, noticeable development in aviation sector, improved macro-economic management, strengthened private policy, rural, infrastructural, youths and sport development. Of course, it is impossible to highlight all the milestones in this brief account but apparently, Bukola Saraki was good as governor of Kwara state. In fact, he has been tagged the pioneer of makers of new Kwara.
Being resourceful with little will attract more and to whom much is given, much is expected. As good as he was as governor, becoming a senator representing Kwara senatorial district and chairman of senate on environmental issues have revealed dramatically a greater leader in Bukola Saraki.
Better as senator- oil spill is not just an environmental issue but also economic loss to our nation; this problem has continued to affect people in the Delta region seriously until 2011 when Bukola Saraki began to wage war unrestlessly against this hazardious act, visiting the region at intervals for close monitoring of oil spills, calling to justice companies involved and incessantly pushing for bills that will ameliorate environmental challenges faced in this region of Nigeria. Instant visit accompanied with sufficient relief materials to flood affected areas of Nigeria in 2012- saving of over 1500children suffering from lead poisoning in Bagega, Zamfara state through a ground breaking advocacy with concerned Nigerians on social media- Bukola Saraki visited Bagega, saved the children and empowered their women through a coorperative system to mention a few. His positions on major national issues have remained masses friendly not minding the party or Federal Government's stand, Senator Bukola Saraki takes pleasure in masses oriented policies. Yes! Good as a governor, Better as Senator...!
Best as....Reflecting on the fact been revealed in Elrufai's book that Senator Bukola Saraki is among late President Yar'adua four proposed successors- in relation with result oriented leadrship of Bukola Saraki, President Yar'adua may be a seer in this discourse. Nigeria is at a tough stage in her history as a people and better leadership seem to be the only way forward. Beyond our ethnic differences and religious sentiments, party bias and clash of interests- embracing leadership based of proven developmental records is primal for our future as a nation- Bukola Saraki was good as governor, now better as a senator, apparently, he will be best as...? Assess proven facts objectively!
Written By Usman Gbadamosi

Disclaimer:

"The views/contents expressed in this article are the sole responsibility of

thewillnigeria.com

and do not necessarily reflect those of The Nigerian Voice. The Nigerian Voice will not be responsible or liable for any inaccurate or incorrect statements contained in this article."
Articles by thewillnigeria.com