The Re-invention of Uche Jombo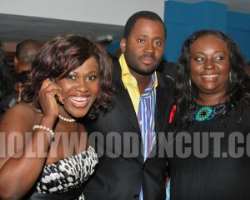 If there is anyone that deserves an award for the Artiste-that-has-most-reinvented herself' it has got to be Uche Jombo! Uche has systematically worked her way up the hard, arduous road of fame and stardom, improving on her craft and losing a whole lot of weight in the process. This multi-faceted actress is also a writer and has recently delved into producing films. She is a Glo Ambassador and recently returned from Zimbabwe where she was a guest of the Zimbabwean Government. Nollywooduncut.com (NWU) tracked down this hard working star (where else?) on location and this was how it all went! Enjoy!
NWU: Hi there Uche!
UJ: Hi Bola! How're you doing?
NWU: Very well thank you..let me first of all congratulate you on your weight loss!
(General laughter)
UJ: Thank you!
NWU: And youre looking va-va-voom! Care to spill the beans on why and how that happened?
UJ: Well, I always knew I was a bit on the big side especially around the hips and when we would shoot I would look even bigger on screen so I took the decision to lose weight. That apart, I also lost weight to be in character for a role in a movie where I play a cancer patient.
NWU: Oh really? We'll come to that later…. Word has gone out that you have been going behind the camera executive producing and co-producing movies..would you clear the air on that?
UJ: Yes, I have executive-produced two movies to date..one is 'Nollywood Hustler' which we shot last year and is due for release very soon. The other is the one we are shooting right now, 'Holding Hope' but Im doing that in collaboration with my colleagues, Emem Isong and Desmond Elliot.
NWU: That's the one where you play a cancer patient right?
UJ: Yes.
NWU: What's the difference between producing and executive producing?
UJ: Executive producing merely means you are the one bankrolling the film and producing is when you actually get things done like hire the director, cast, crew and generally make sure the production is going on.
NWU: There seems to be a new trend with actors and actresses these days executive producing films… first there was Stephanie Okereke with her film 'Through the Glass' Desmond Elliot co-producing 'Reloaded', 'Before the Light' and 'Guilty Pleasures' and even this film you're shooting and Ini Edo producing her yet-unreleased film 'Memories of my heart'. What is going on?
(General laughter)
UJ: Well, I can't speak for my colleagues but I can say that it's more about me evolving and wanting to empower myself. Apart from being an actress, I also write scripts and when I would write and sell to some producers, may be due to financial constraints or plain not understanding the story they would end up spoiling it…at least my vision for it so I decided that the next time I have a story close to my heart, I would bank-roll and produce it.
NWU: And what has the experience been like?
UJ: Hectic as you can see!
NWU: Tell us about this film you're currently shooting… 'Holding Hope'.
UJ: It's a beautiful story…a story about love, one's faith, life and about cancer.
NWU: Why cancer?
UJ: Hmm… I was recently on a flight from Addis Ababa (Ethiopia) to Harare (Zimbabwe) and I met a cancer survivor. We got talking and she told me her story about surviving breast cancer. Of all the things she said, what stood out for me was how she was able to live and face life with just one breast. She said she knew her husband loved her but she was apprehensive because he was a man that like physical beauty too but they were able to cope with that.
NWU: So did you shoot the movie about her life?
UJ: No..but it was part of the inspiration for the film. I say this is a lucky script because all the elements that were favourable to it, came together. Coincidentally, when I got back to Lagos and was chatting with my friend (Producer) Emem Isong she said she had just read a sad story about a lady with cancer and wanted to combine it with a script she had had for ages on domestic violence. So I came over to her place and she, her sister Uduak Isong Oguamanam and I plotted the story for this film which we titled 'Holding Hope'. When we finished we knew we had a winner. Infact Emem said if people don't
NWU: So it's a tear-jerker?
UJ: Absolutely!
For the rest of the interview go to www.nollywooduncut.com
Story by Bola Aduwo