Yuguda Lays Foundation of N79bn Bauchi Int'l Airport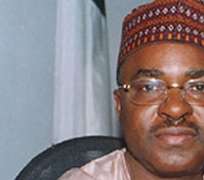 The Bauchi State governor, Malam Isa Yuguda,  has laid the foundation stone of the N7.9billion  Bauch International Airport.
Speaking during the foundation laying ceremony, Yuguda explained that the concept of the International Airport dates back to the 80's along with Akure and Warri amongst others.
'The strategic location of Bauchi State as a gateway to the North-east sub-region and also being a home to the West African premier Game Reserve, the Yankari Game Reserve, makes the construction of an international airport imperative,' Yuguda stated.
The governor said that an efficient transportation system was necessary for the socio-economic development of any society, adding that an efficient and effective transportation system was needed to facilitate the movement of the people and goods within the state.
'It is in realisation of the direct bearing transportation has on the overall socio-economic development of the state that our government has since inception embarked on the construction of roads in different parts of the state,' the governor stated.
According to the governor,'the dream of Bauchi State having an international airport has long been awaited because successive administration lacked the political will to do so. Air transportation is not only relatively safer, but is faster, safer and more comfortable than road transportation. With an international airport in place, Bauchi State will attract both local and foreign investors that will go a long way in boosting the socio-economy of the state'.
Yuguda ,who pointed out that oil was generating more revenue for the country , said that  investment in tourism can generate revenue three times  more than oil, hence the need for a befitting airport system in the state.
He further said that contract for the construction of the international airport was awarded to  Triacta Nigeria Limited at the cost of N7,999,595,433.13 with a completion period of 18 months, adding that the construction work of the project which has reached advanced stage has a length of 3.4km runway with 1kilometre crash road at both sides as well as a width of 60metres.
The governor disclosed that Bauchi International Airport which is expected to be officially inaugurated within the first quarter of the year would be used in airlifting intending pilgrims for the 2013 Hajj operation from the state.
He said,'the airport was designed for 747 aircraft that will serve the operational needs of both international and domestic flights. A fire-fighting station will also be established in the airport that will be later converted to a fire training school'.