Anambra Feb 6: Iwu Does Not Support Andy Uba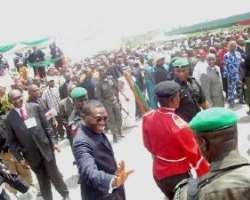 It will be difficult for people to believe that the INEC boss, Professor Maurice Iwu, would not support Andy Uba in the forthcoming gubernatorial elections taken place in Anambra State on Saturday February 6, 2010. This becomes so when it was alleged that Andy Uba was instrumental to Maurice Iwu's emerging the INEC Chairman. As a matter of fact it was taken that when Andy went about his misadventure in the courts seeking to be declared governor-in-waiting; Iwu was seen as a silent backer.
Taking it up to this time that Andy after failing in the courts decided to take up his pursuit through the platform of Labour Party; it was still believed that Iwu was part of the decision. But from what has just emerged as Iwu's statement to the effect that Andy is on his own. Iwu, it was alleged, counseled Uba that considering that he is still a young man, he should not venture into the Anambra 2010 but instead should start planning for the future to actualize his dream of governing Anambra State.
One thing is for sure: Should Andy emerge as the winner of the forthcoming gubernatorial election, there is no way people would not assume it the handiwork of Iwu, irrespective of what Iwu would opine. It should be in the total interest of Iwu that Andy does not emerge the winner through any means; otherwise Anambra would be on fire. It is said that a word is enough for the wise. It is even becoming clearer to Anambra people that the best thing that should happen is that none of the so-called frontrunners parading themselves in the media for now should govern Anambra State after the election. Only time shall tell.
|
Article source