New Song: Jayvic, Jahilez Shine In 'Ogoro'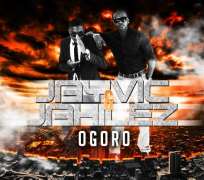 The duo of Jayvic and Jahilez, known for dishing out wonderful tunes, have shone in yet another hit banging song entitled 'Ogoro'. Jayvic and Jahilez came to know each other in London some years ago and their friendship has ever sonce been bonded by music, fate and love for each other even though they hail from different countries.
While Jayvic is a Nigerian, Jahilez is from D.R Congo.
After getting both local and international reviews from the media and music pundits from their debut album, 'London To Africa', they didn't rest on their oars in stepping up their game in bringing out a better song than their former.
The duo have now come out with a new song, 'Ogoro', which is adjudged as the next rated song to shake the industry to its root.
For those who have listened to the song, which was lyrically delivered, 'Ogoro' is a song that takes the ladies straight to the dance floor while it also makes the men folk nod their heads to the beat because of the smooth chemistry between the beats and vocals.
'Ogoro' is a fusion of Nigerian pidgin English and Congolese coupe decale adlip with also ndombolo dance moves mix with the best of Africa dance moves. From azonto to etighi, a perfect blend of classic music and mind blowing Afro-beat, a song to be heard at any time.
Listen to the song here.
http://www.hulkshare.com/x0zh0aczhszk