Niger Delta Crisis: US Contemplates Special Envoy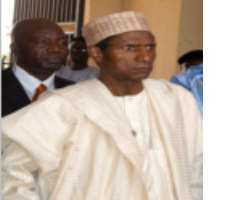 Faced with the impotence and continuous inability of the Nigerian government to fashion a coherent response to the ongoing low-intensity insurrection in the Niger Delta, that has disrupted oil production by an estimated 1.3 million bpd, the United States is now contemplating a number of policy options, including an official diplomatic presence in the Niger Delta, Huhuonline.com has learnt from sources at the US State Department.
"The insecurity in the Niger Delta is not only a problem for the Nigerian government", the source said, adding:" it is a problem for the United States and the international community. Because one thing is clear: a stable Niger Delta means steady oil supplies that would moderate world oil prices. At this time of global economic meltdown, we cannot allow the violence in the Niger Delta to engender energy insecurity. The United States will offer Nigeria all the help it needs to confront its armed groups."
Although a final decision is yet to be made, Huhuonline.com was made to understand that, by opening a consular office in the Niger Delta region, the United States would be able to monitor the situation on the ground more effectively, while building alliances with civil society groups and the international oil companies operating in the region, to promote revenue transparency, public accountability and good corporate governance in Nigeria.
Regional analysts have warned that oil bunkering and the deteriorating situation in the Niger Delta poses a major threat to international security. Policy wonks in Washington DC have been pushing the Obama administration to seek an international consensus on policies to help the impoverished Niger Delta region through a more effective Gulf of Guinea Energy Security Strategy in close collaboration with the United Nations, the World Bank, and other key stakeholders engaged with Nigeria.
According to the Office of the United States Trade Representative, Nigeria is the United States' largest trading partner in sub-Saharan Africa with imports totaling $38.1 billion in 2008, a 16.2% increase ($5.3 billion) from 2007. The US imports 44% of Nigeria's oil production, making it the 5th largest foreign supplier of crude oil and petroleum.
"This [Niger Delta] is an invisible emergency that does not get a lot of attention around the world, but it is something of extreme concern to the United States," noted another source who told Huhuonline.com on conditions of anonymity that, the Pentagon remains gravely concerned over the situation in the Niger Delta and the US army war college has organized war games featuring different scenarios as the US government continues to fine-tune a coherent response to any future crisis that might disrupt oil production in the Delta region.
Among the options being discussed included: US assistance to help Nigeria improve security along its coastline by training an elite unit of professional, well-equipped, Nigerian Coast Guards as a separate corps within the Nigerian Navy. The US also intends to offer technical assistance to trace stolen oil and tackle bunkering and money laundering. Other options are; a public naming and shaming campaign of identified sponsors of bunkering operations with travel bans on offenders, who will see their overseas assets and bank accounts frozen.
The United States is said to be running out of patience with the Nigerian government's apparent lack of resolve in addressing the underlining problems that is fueling the Niger Delta insurgency. "The international community has an unfortunate record of judging Nigeria by its words rather than its actions in the Niger Delta," said the source, adding: "the United States cannot allow itself to be hoodwinked by Nigeria into believing that the amnesty program will end the crisis whereas the Nigerian government has been rearming and preparing for war."
Huhuonline.com has exposed mounting evidence that the government is planning to mount a full-scale military offensive in the Niger Delta when the amnesty offered by President Yar'adua expires next October 4. The government has recently procured hundreds of millions of dollars worth of sophisticated weaponry and military hardware including helicopter gunships, armed patrol boats and unmanned drone intelligence planes from Israeli, Malaysian, Dutch, Lebanese, Singaporean, and Russian companies.
These include two 24.8-metre Shaldag MK-20 patrol boats from Israel worth $25 million. An elite unit of 80 navy servicemen is currently undergoing training in counterinsurgency operations at the northern Israeli port city of Haifa. Shaldag MK-20 patrol boats are generally armed with artillery guns and machine guns and designed for operations where high intercept speeds are required, such as counter terrorism and illegal smuggling.
Nigeria also bought a surveillance system that uses unmanned air drones and sea vessels produced by Israel's Aeronautics Defense Systems/Aeronautics Ventures. Nigeria acquired 20 troop-carrying catamarans from the Dutch firm, TP Marine, to transport soldiers up the creeks and small rivers.
Two 38-metre Manta-class patrol boats built by the Nautica Nova Shipbuilding yard in Malaysia have already been delivered to the Navy. Four additional 17-metre Manta-class patrol boats have also been delivered by Singapore's Technologies Marine. The Navy had earlier procured 35 machine gun-equipped fast patrol boats paid for by the Nigerian National Petroleum Corporation, (NNPC) on the instructions of President Yar'adua. The Air Force has also received 15 Mi-24, Mi-34, and Mi-35 helicopter gunship and transport helicopters from Russia. Russian instructors are currently training Nigerian pilots how to operate these helicopters which are armed with machine guns, bombs and rocket launchers.
These helicopter gunships were used extensively by the Soviet Union during its failed conquest and occupation of Afghanistan but it appears, Russia seems to have found an open market to dump its redundant military hardware as these helicopter gunships have resurfaced in counterinsurgency operations by the governments of Chad, DR Congo, Sierra Leone, Guinea, Ethiopia in its war with Eritrea and to perpetrate the Sudanese government's genocide in Darfur.
It is clear from the massive arms build-up that President Yar'adua is talking peace and preparing for war. While there is no reason to believe that there is a military solution to the Niger Delta insurgency, it is doubtful whether the Nigerian government will entertain the US decision to appoint a special envoy for the Niger Delta; if and when Washington makes that decision
|
Article source