AGE GRADE SHOW YOUR MIGHT -GOV OBI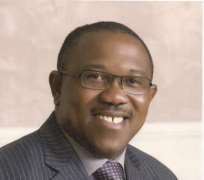 Governor Peter Obi has tasked age grades to participate actively in the on-going rebuilding of collapsed structures in schools across the State Governor. Obi threw the challenge while commissioning a classroom block at Amoji Primary School, Umeze, Isuofia, Aguata Local Government Area, rebuilt and renovated by an Age Grade in the Community.
Governor Obi urged other age grades to toe this line and contribute in uplifting Education as the engine that will drive the future of the society. He explained that the only way to change the society is for stakeholders to contribute in upgrading infrastructural facilities in their area.
The Governor enjoined the people to put the future of the State above any other consideration irrespective of political and other interests while stressing the need to elect credible candidates who are ready to offer selfless service and capable of attracting good from across the world.
The Patron of the Age grade and former Governor of the Central Bank, Professor Chukwuma Soludo extolled the commitment of the Governor in promoting the welfare of children whom he described as the bridge to the future of the society.
The Chairman of the village Union, Comrade Charles Onyeagba expressed the hope that more projects will be extended to the area.
Also speaking, the Chairman of the Age Grade, Mr. Emeka Okafor said they embark on the project to compliment efforts of the State Government in repositioning education in the State and disclosed that they will soon commence rebuilding of another block and perimeter fencing of the school.
Meanwhile, the State Government is to initiate more road projects across the State.
Governor Peter Obi who disclosed this at a cultural festival at Ekwulobia noted that the State now has the best road network in the country.
He said the State Government is working in all sectors in Ekwulobia community and called for peace and stability to sustain the tempo.
The Traditional ruler of the town, Igwe Emmanuel Onyeneke thanked the Governor for many projects completed in the area including erosion control, roads, hospital and school projects.