Budding Actress, Belinda Effiah In Secondary Schools For Rape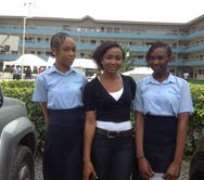 Emerging Superstar Belinda Effiah is showing the softer side of her after having an awesome year as she made a tour of selected secondary schools in Lagos to talk about rape and its consequences as preached in KOKOMA ,The movie she played the lead role in and in which she was raped in the movie.
Belinda, this year, has won several awards based on her performances in the movie. She won best upcoming actress at BON Awards, GIMAA awards in the US and a group in her home state, Uyo, also honoured her.
When Bononline spoke to Belinda, she declared, "I decided to partner an NGO; Project Alert, because of the alarming increase in rate of rape cases reported daily. I think we should do more to protect our young girls. I shall surely do more and I will join hands with whoever is interested in this project to reduced the rape cases in our society.