NO going back on Sylva 2011- Think Tank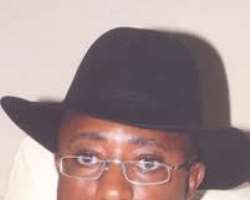 The Think-Tank (2011 Initiative) for Governor Timipre Sylva recently added their voices for the continuity of the Governor come 2011 at the Creek Haven, government house. They urged the good people of Bayelsa state to respect the voice of think-tank for the land mark achievements the administration had recorded in the state. That, Sylva continuity was the only panacea for a united Bayelsa and development. Also, it would be an act of injustice for any one to work against Sylva as it would be a breach of continuity. The think-tank, it would stand up and defend the governor in its policies and programmes. In this interview, the Director General, Sylva 2011 Think- Tank Initiative and Executive Chairman, Bayelsa State Environmental Sanitation Authority, HON. REGINALD DEDE speaks to JONES ABIRI, Niger Delta Bureau Chief on why the organization was formed and what they intend to achieve. Excerpts.
Sir, what is the organization all about?

The think-tank 2011 Initiative for Governor Timipre Sylva is an organization made by social group that does not want to insult other politicians or plan to attack other politicians by using thugs and weapons for the sake of power. It is made up of people that have been working for the governor and share his vision and aspirations for the state. The governor is the father of the state. We can't afford to discriminate against any body with genuine intentions with the governor.

Our aim is that we don't want people to deceive the governor. The governor is my long time friend. Also, some of the political appointees are his trusted friends. In his present position as governor he does know who loves or loves him today. If he is to come back in 2012 as we don't know the exact date as the constitution may interprets. We can not be specific as we don't know what would happen tomorrow. Presently, every body commend and praise him, but we his friends if finally people disappoint him, he still have people for him. If all his friends get scattered we would be able to know his plights as some of us have political ambitions. The commissioners no matter their good performance they could be changed. When that happened, the think- tank will advise the governor to use some of the members of the think- tank. It is not birth right for all the assembly members to come back..

We may want to field or present our members who are qualified. Alternatively, if any of them merited a second tenure we can throw our weight behind him or her. We don't want any particular person to hang on to power. We are preparing for any eventuality.

Who are members of this group?
This is made up of credible Bayelsans not tied to any particular party, but is for people with like minds and ideas. It is not meant for PDP or ANPP, capital NO. Any body that wishes the governor success is a member. Anybody that preaches peace and stability, these are the caliber of people we welcome. That is why we have a Director for Inter-Party Relations. Our duty is to reconcile any aggrieved persons to usher in peace in the state. We do not want to create any segregation. We don't want to be compromised; we are totally for the governor.

What is the spread of membership?
To ensure a balance, our members cut across all the senatorial districts. The organization has local government areas co-coordinators, contact committee members that are the spread of our membership.

What plans does the group have for politicians who oppose the governor outside the state capital, the Abuja force?

As a politician I can't agree that any body is fighting the governor from out side. As a state we have elders, leaders who can always advise and work for the peace of the state. Those you referred to as fighting the governor are faceless politicians and petitioners who think they can make themselves relevance by writing petitions that lack facts and figures. Bayelsa belongs to all of us, they should come and write those petitions at home and not in Abuja. The same style they used to remove Chief DSP Alamieyeseigha for their selfish end. But this time around they will not succeed because we know their antics and tactics.

Finally, what are your advise and way forward of this agenda?

Our advice is that we should give peace a chance, be a brother's keeper, and preach love and unity. Always criticize constructively because apart from God, the governor may not be perfect. People should feel free to proffer solutions to the problems in the state. As the governor's short tenure with litigation and militant problems here and there coupled with dwindling finances from the Federation account. He may not be able to unfold his developmental agenda. We are all witnesses to some people oriented projects he embarked upon when the allocations were high. Let's give him another tenure.