Soldier, Three Boko Haram Members Killed, 31 Arrested In Maiduguri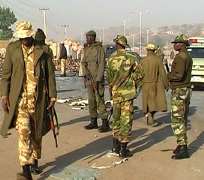 SAN FRANCISCO, November 28, (THEWILL) – Maiduguri, Borno State, the headquarters of the terrorist group Boko Haram Wednesday resembled a war zone as heavy artillery was deployed within the metropolis by the Joint Task Force (JTF) to fight off the dreaded sect in their stronghold of Bulabulin.
The district is where improvised explosive devices have been hurled at the military men in the past.
The movement of the heavy artillery including motorized machine guns, armoured personnel carriers into the area held up traffic for hours while gunshots could be heard for more than thirty minutes as there were casualties on both sides.
Many residents fled the battleground even as the streets were deserted.
The spokesman of the JTF, Lt. Col. Sagir Musa in a release said based on information a cordon and search operation was conducted at Bulabulin Ganram area of Maiduguri metropolis at about 12:30pm yesterday.
He said during the exchange of gunfire, a soldier was killed with another injured and an a Nigerian Immigration Service (NIS) personnel still missing in action.
Three suspected Boko Haram members were shot dead in the confrontation with 31members arrested, the spokesman said, adding that an AK47 rifle, a G3 rifle and an undisclosed quantity of assorted magazines and ammunitions were seized by soldiers.
The military has launched operations to locate the unnamed missing Immigration officer, Musa stated.