NGOs Fast becoming Channels For Money Laundering - SCUML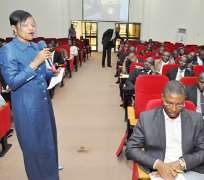 ABUJA, September 05, (THEWILL) - Head of the Special Control Unit against Money Laundering (SCUML) of the Economic and Financial Crimes Commission (EFCC), Angela Nworgu has revealed that Non-Governmental Organisations (NGO) now serve as conduit for money laundering and sponsorship of criminal activities.
Nworgu made the disclosure in her opening remarks at the annual seminar for Designated Non-Financial Institutions (DNFIs) with the theme, Strategic partnership Amongst DNFIs for Effective Implementation of AML/CFT Regime in Nigeria, which held at the EFCC Academy, Karu, Abuja.
She revealed that research works by the Financial Action Task Force indicate that money launderers who use NGOs to launder stolen wealth through several countries in order to disguise the actual origin of the money do not mind losing 40 per cent of the total amount in the process, since it is illegitimately acquired wealth.
She stated that the essence of the seminar was to expose compliance officers to their obligations and responsibilities in the fight against money laundering and terrorist financing.
The participants, drawn from various DNFIs such as Bureau De Change, Hotels, Law firms, Jewelers, etc were taken through the provisions of the Money Laundering Act 2011, KYC (know your customer) principles, Anatomy of CTRs/STRs, implication of the CBN circular on AML/CFT compliance, among others.
One of the resource persons, Emma Igbodekwe told the participants that the newly amended money laundering prohibition Act, 2011 is more robust with strict punishment for its violation.
"That does not invalidate its application on culprits who might have committed the offence long before it was passed into law, because it's provisions also encompasses all the provisions in the Money Laundering prohibition Act, 2004," he stated.
Also speaking, Mr. Mathew Enu said the objective of the CTRs/STRs regime is to help detect and deter money laundering and the financing of terrorist activities.
"It is also to facilitate investigation and prosecution of money laundering and terrorist activity financing offences," he explained. "This includes reporting, record keeping, client identification and compliance regime requirements for individuals and entities."
Highlight of the occasion was the award of certificates to participants drawn from DNFIs across the country, most of whom expressed gratitude for the opportunity to broaden their knowledge of the provisions of the money laundering prohibition law and its implementation.