Tanker Hits Nigeria Church Goers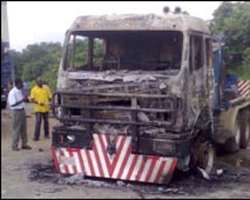 Deadly accidents A petrol tanker has crashed into a bus carrying a group of women to a church service in Nigeria killing 19 people.
The minibus was pulling out of a petrol station when it was hit by the tanker in the central Nigerian state of Benue.
The women were on their way to a Palm Sunday church service. Seventeen people were killed instantly and two more died in hospital later.
More than 4,000 people die in accidents every year in Nigeria, according to official figures.
Police in Benue said the driver of the petrol tanker was in a critical condition in hospital.