Exopa Catwalks X'mas Eve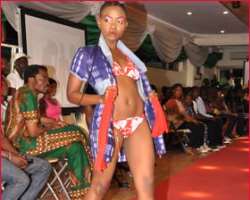 THE CHRISTMAS season was not only about music and movies. The Exopa modeling agency also treated its fans to a modeling extravaganza as it staged this year's edition of its exciting fashion event for large size models on X'mas Eve dubbed L-Fashion Night at the premises of the Exopa Burge School, behind the International Trade Fair.
Boys, girls, men and women of the industry as usual did not only show up in their numbers, but in trendy looks. Majority of the ladies were clad in strapless straight dresses while some men also demonstrated their fashion orientation with their Gucci jeans and Tommy Hilfiger shirts.
The event, which was scheduled to begin at 8pm, started rather late. Standard size models opened the show with an electrifying display from Reggie Rockstone's father's Ricky Osei Designs.
The plus-size models then wowed the audience with premeditated walks and modeling antics in designs by Nalem Clothing, Nana Nelson's Dream Clothing and E-Fashions. Every step the models took attracted applause from the audience.  
L-Fashion Night, which was introduced just last year, is done to provide a platform for plus-size models and help nurture others interested in a modeling career. The absence of Sima Ibrahim did not affect the event that much as patronage was not really affected.
The night was not without music as Joe from Project Fame and Mentor, Iwan, and Pop Skinny took turns to rock the audience. There were other performances from new entrants Raquel Ammah, first runner-up of the Grab The Mic reality show and BB.
Tinny also passed through with his Kankpe record crew, as did other big names in the fashion and music industries. The event was climaxed with an after party at the Burge.
By Francis Addo