Nasdaq Drops 1 Percent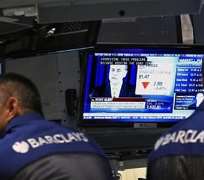 Stocks fell on Thursday, with the Nasdaq dropping 1 percent, after data showed a global slowdown could be becoming more entrenched, with more signs of weakness in the U.S. economy.
The Dow Jones industrial average .DJI fell 75.91 points, or 0.59 percent, to 12,748.48. The Standard & Poor's 500 Index .SPX dropped 11.51 points, or 0.85 percent, to 1,344.18. The Nasdaq Composite .IXIC lost 30.00 points, or 1.02 percent, to 2,900.45.
REUTERS