Exopa Models Storm Court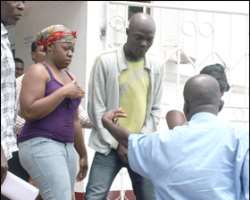 Sima Ibrahim and Serwah (left) in court
OVER 30 models of the Exopa Modelling Agency yesterday stormed an Accra Fast Track in solidarity with their boss Ibrahim Sima, who was to be put in the docks to answer charges relating to alleged attempted exportation of cocaine to Germany.
The models, some of whom were decently dressed while others were scantily clad in colourful clothes, filled the courtroom. Others who could not get chairs opted to remain outside the courtroom, waiting anxiously in the hope that the case would come on, only to realise that the case would rather be heard today.
This was after counsel for the suspect, Kwame Akuffo, drew the attention of the judge to the fact that the case docket was not before the court, to which the Chief State Attorney in the case, A. Ofori, explained that the docket would be brought later as the charges had been prepared and processed.
Mr. Ofori wanted the court to have Ibrahim remanded for a date to be fixed for hearing, but Mr. Akuffo was of the opinion that once the docket was not before the judge, they had no idea on what charges they were facing. Mr. Akuffo subsequently requested that the case be slated for hearing today, which the trial judge, Justice Charles Quist, upheld and remanded the suspect into police custody.
After the case was fixed for hearing, some of the models got closer to Sima and whispered words of encouragement to him after which they filed out of the courtroom and waited till he was whisked away in a Narcotics Control Board (NACOB) vehicle by security officers.
Mr. Sima Ibrahim, who was arrested at the Kotoka International Airport (KIA) on September 7, 2009, was suspected to be carrying yams believed to contain five kilograms of cocaine in his luggage in a Lufthansa flight, bound for Frankfurt during a random check.
The four yams were said to have been cut and re-fixed with slabs of substances which proved positive for cocaine during a field test.
Meanwhile, the fashion guru has denied the offence and explained that the items were given to him by a friend named Salifu in Nima, to be given to someone in Germany.
In a related development, the case of the three Americans nabbed at the KIA on suspicion of drug trafficking was not called, even though they were brought to court. It is believed that like the Exopa fashion boss, their case would be called today.
The suspects are Abena Serwah, 19, Sadrack Ntiamoah, 23 and Joanne Gabrielle, 21.
Serwah and Gabbrielle were said to have stuffed their private parts with the substance suspected to be cocaine. Furthermore, Serwah was said to be wearing a talisman around her waist allegedly to protect her from being nabbed.
Ntiamoah also had 19 pellets of the substance concealed in his underwear.
By Fidelia Achama