Imoke Raids Oil Bunkering Communities, Seizes 107 Tankers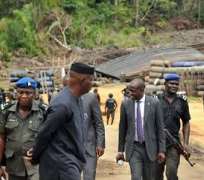 CALABAR, May 25, (THEWILL) - Ten hand-dug boats, two barges and several thousand containers used in illegal lifting of petroleum products in Akpabuyo and Bakassi local government areas of Cross River State were on Thursday set ablaze during a raid by security personnel led by the state governor, Senator Liyel Imoke.
Also, about 107 tankers laden with petroleum products and pumping machines were seized during the raid that lasted over six hours.
Localities raided during the operation include Esuk Mba beach, Akpabuyo and Ikang Primary Health Care Centre, Esuk Ekonke Beach, Shell Road, Ikang and Edik Idim.
Imoke, who was accompanied by service commanders and operatives of the state's Quick Intervention Squad, said it was unfortunate that illegal lifting of petroleum products was thriving in those communities. He lamented that the activities were not only illegal but also destructive to the environment and social settings of those areas.
"I assure you that the exercise will be carried out in every part of the state where such illegal activities thrive. I commend the service commanders for their commitment to routing the menace," he said. "It is disappointing that such illegal businesses operated even within the premises of health centres and schools with attendant adverse impact on the people. Those engaged in the illegal activities must be chased out of the state.
Addressing residents of the communities where the illegal business are being carried out, Imoke said the roads which were used as access to the beaches for the illegal activities were built for genuine business to boost legitimate economic activities for the good of the people.
He remarked that the roads were constructed to promote trade and tourism and said perpetrators of such illegal activities, who are non-indigenes of the state, will leave after spoiling the environment.
He, therefore, urged the people to join hands with his administration to rid the state of the negative elements.
It would be recalled that the illegal lifting of petroleum products along Marina, Calabar was banned by Governor Imoke last year.
Following the ban, those engaged in the activities simply relocated to Akpabuyo and Bakassi, which until yesterday were safe havens for them.