Women Under Obstetric Attack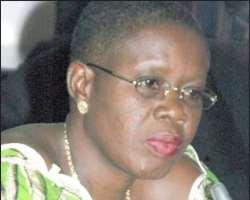 Akua Sena Dansua, Women and Children's Affairs Minister
FEMALE GENITAL Mutilation (FGM) in the three Northern Regions of Ghana has been identified as the contributory factor to the growing number of obstetric fistula cases among women in these areas.
Statistics show that, the condition affects a minimum of three per 1,000 expectant mothers in Ghana but mostly women who have undergone circumcision stand the chance of suffering fistula complications during childbirth and other related cases.
Besides this, an estimated 500 Ghanaian women including girls between the ages of 10 and 17 who get pregnant also suffer fistula conditions yearly.
Minister of Health Dr. George Adja Sipa-Yankey disclosed this when he commissioned the ultra-modern Tamale Fistula Repair Centre at the Old Tamale Hospital which is to serve as a referral point for government hospitals in the three Northern Regions.  
He called on traditional rulers who command a lot of authority in their respective communities and concerned citizens to wage a relentless fight against the dehumanizing practice of FGM   saying "it is criminal under the laws of Ghana for anyone to practice FGM."
Dr. Sipah-Yankey indicated his ministry would work towards prevention and treatment of fistula by repositioning family planning to ensure majority of women are protected from unwanted pregnancies.
He added it would also encourage participation of skilled birth attendants and ensure availability of basic and comprehensive emergency obstetric and neonatal care services in both public and private hospitals.
In her address, Minister for Women and Children's Affairs, Akua Sena Dansua, explained that obstetric fistula is a hole that forms between a woman's vagina and bladder or rectum as a result of prolonged and obstructed labour, leaving her with chronic urinary or fecal incontinence.
She revealed women who suffer this condition are often abandoned by their husbands and families, blamed for their condition and ostracized by their communities.
She added that this affects girls and women living in poor and remote rural areas with inadequate or absent health services as well as those who give birth at home without professional care.
Madam Dansua called for effective ways to prevent fistula by ensuring access to quality maternal healthcare services, including family planning, skilled birth attendants and emergency obstetric care saying,
"Prevention also entails tackling underlying social and economic inequities through efforts aimed at empowering women and girls, enhancing their life opportunities and delaying marriage and childbirth."
The Northern Regional Director of Health Service Dr. Akwasi Twumasi said the Fistula Repair Centre has a consulting room, 10 admission beds and a modern theatre equipped to offer surgical operations mainly for the repair of fistula and other maternal surgical conditions.
According to him, prevention rather than treatment is the key to ending fistula, but added the backlog of fistula cases which is about 43 in the region needs to be attended to and prevention activities intensified to ensure they are reduced to the barest minimum.
From Stephen Zoure, Tamale