Mrs Alberta Quartey - A Strict Disciplinarian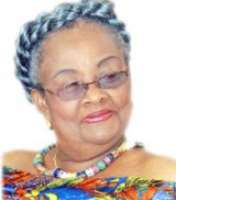 At age 12, Young Alberta took a very difficult decision to stay in Ghana while her family moved to Nigeria.
Her decision to stay at the convent with the Anglican nuns groomed her to become disciplined, always desirous for excellence and also an avid reader.
These attributes she acquired manifested in her life as a student, teacher, mother and Proprietor of Alsyd Academy and projected her as a person who always strives for excellence in whatever work she is assigned to do.
Narrating her childhood experiences to the Junior Graphic, , who was one time the Chairperson of the Ghana National Commission on Children (GNCC), said she was the third among seven children and attended the St Monica's Convent Primary School in Cape Coast.
As a child, Young Alberta always assisted her mum, in cooking, baking and keeping the house and thereby sharpened her own skills in baking.
She said even though there were house helps at home, the children were not exempted from household chores such as washing, scrubbing and sweeping.
"My father took us to school in his car so that we would not be late but we had to walk back home after school and on our way home my siblings and I sang or told stories and it was so much fun," she added.
Mrs Quartey said she was exposed to the English Language at an early age, since her father was a teacher at the St Nicholas Grammar School (now Adisadel College) .
"However, we spoke Fante at home and played local games such as oware, tu ma tu," she recalled.
At school, she said they were made to obey the school rules to the letter.
According to her, when her family moved to Nigeria, she stayed at the convent with five other children but they were treated so well that she never felt homesick.
"The nuns took us to the beach, to watch plays or visit the library and that was where I developed the love for reading," she recalled.
She read all kinds of books by Shakespeare, Charles Dickens, the Greek fables, among others.
After completing Middle School in 1946, Mrs Quartey topped the Middle School Leaving Certificate examination in the whole country and gained admission to the newly established St Monica's Secondary School at Ashanti Mampong. She was awarded a scholarship in the school for her excellent work.
Because it was a new school, Mrs Quartey said they were always faced with water problems and had to trek about one-and-a-half miles to fetch water.
"On Satur-days, we washed our clothes and in order not to make two journeys at a time most of us tied our clothes at our backs while we carried our buckets on our heads," she added.
At St Monica's, Mrs Quartey was a member of the Red Cross Society and she was involved in a lot of voluntary work and outreach programmes.
She indicated that they usually went round the surrounding villages to educate the people on environmental cleanliness, teach them to read, give first aid treatment, among others.
When Mrs Quartey was made the School Prefect she did not find any difficulty handling that position because all the other prefects assisted her. On vacations, she visited her family in Nigeria or stayed at the Sisters convent at Mampong Asante.
After completing St Monica's, she gained admission to the Achimota Training College which was later moved to Kumasi as the Kumasi College of Arts, Science and Technology.
When she completed, she taught for five years at St Monica's Convent Primary, Cape Coast and went to the University of Gold Coast for an Associate Certificate in Education.
She went back to teach English, Psychology and Speech Training at St Monica's Training College. Later, she obtained a certificate in school management at the Institute of Education, Oxford University.
She got married to Dr Sydney Quartey, a veterinary surgeon, after which she moved to various schools in and out of the country to teach until she established Alsyd Academy in 1977 with six children.
Currently, the school has a population of about 600 children. As the Chairperson of the GNCC, Mrs Quartey, was among those who prepared the Children's Act and also wrote the National Programme of Action for Children.
She has three sons and five grandchildren. She asked children to submit themselves to authority, absorb good values, say no to what is wrong and above all, trust in God and abide by His words.