HOW FORMER LAGOS NURTW CHAIRMAN AKANI OLOHUNWA LOST OUT—WHY HE RELOCATED HIS FAMILY TO CANADA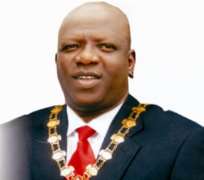 It is a stale news that former Lagos State Chairman of the National Union of Road Transport Workers,NURTW, Chief Akanni Olohunwa and his arch rival,Alhaji Musiliu Akinsanya(MC Oluomo),were forced out of the race for the plum job by the Lagos State Government who worked in concert with the national body following the bloody clashes that characterized their campaigns a few months back.
Now a new executive is on board and this is the pathetic story of how the former Chairman,lost out.
According to those who peddle the story,Olohunwa lost big time in the new exco where he was outwitted by MC Oluomo,who managed to plant his own man,as the new Chairman.
Not only was he not able to get his men into plum positions in the exco,we hear he has lost some patronages he hitherto received from the Lagos State government.
Insiders say his company,which was in charge of washing all the BRT buses,has been shoved aside and another contractor given the job.His wife was also said to be in charge of printing the BRT tickets and other motor park tickets but has lost the contracts also.
As you read this,he is said to have relocated his family to Canada because things are getting tough for him.
Those who spread this rumour say he (Olohunwa),was not able to have a solid investment except for a service apartment that gives him some good cash at the Chevron area of Lekki Lagos,which however cannot sustain the lifestyle he took up when he became NURTW chairman.

MC OLUOMO