NDDC Urged To Monitor Developmental Projects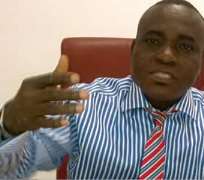 SAN FRANCISCO, May 14, (THEWILL) - The board and management of the Niger Delta Development Commission (NDDC) must ensure effective monitoring and supervision of all contracts awarded in line with acceptable standards.
The senator representing Uyo Senatorial District in Akwa Ibom State, Hon. Ita Enang gave the charge at a stakeholders' meeting with the contractor handling a N6 billion erosion control and environmental remediation project awarded by the NDDC.
Enang, who is also the chairman, Business and Rules Committee of the Senate revealed that the erosion project is part of the projects attached to her constituency while in the House of Representatives.
He said the stakeholders' meeting was a community relations strategy adopted by his office to forestall any crisis in the execution of the project and to address grey areas raised by the affected communities.
"You must not execute this job shoddily; the firm should emulate the high standard of works executed by the state government," he said.
In the same vein, the member representing Ibiono Ibom State Constituency in the State House of Assembly, Hon. Ime Okon advised youths from the communities to restrain from any form of restive activity that could thwart the timely execution of the project.
National President of Ibiono Ibom Welfare and Development Union (IWADU), Mr. Effiong Eduse admonished the contractor to treat issues of compensation to the affected people with wisdom and understanding.
"I urge the management of the construction firm to carry all the affected communities along by providing employment opportunities for the youths in the area so as to avoid conflict," he implored.
Area Manager of the firm, Engineer Alimi Oyewale assured the communities that arrangements were being worked out to ensure payment of compensation to those that would be affected by the project. But he pleaded with them not to allow issues of compensation to cause any setback to the job, and assured of quality and timely completion of the project.
Oyewale said that the scope of the contract include the construction of 14 km of roads with laterite, stone base and asphalt; one bridge of
30 km on two spans; sand box culverts with line drains on both sides; and other erosion control works.
He also assured that other areas not covered in the original design cutting across nine communities in Itu/Ibiono federal constituency would be captured in the project, for which completion a period of 24 months has been earmarked.