RENOWNED DESIGNER & STYLE ICON ADEBAYO JONES TO BE SPECIALLY RECOGNISED AT ICECAPADE 2009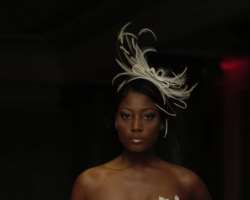 N4LIFE Entertainment are proud to present London based Nigerian Haute Couture designer and style icon Adebayo Jones with its first ever N4LIFE 'special recognition' award. This prestigious award will be presented to Adebayo Jones by N4LIFE Entertainment at its official launch party on 18th July 2009, aboard the elegant and classy Tereza Joanne boat, London.
The evening, aptly titled ICECAPADE is a unique event with an 'Ice and White' theme, where guests are expected in the best of white outfits, adorned with crystals, diamantes and all things sparkling. The venue will also be lavished in chic décor, complimenting the 'Ice & White' theme of the evening.
Adding to the elegant ambience will be music by award winning DJ Abass and the skilful DJ Shola Bee, both playing the best in RnB, Hip Hop, Afro beats and much more. There will also be live PA's by some up and coming talented Nigerian artistes further adding to the musical extravagance of the night.
The N4LIFE 'special recognition' award, given for the first time, is to formally recognise the achievements of Adebayo Jones, a young and exemplary Nigerian, in the world of fashion and style. It is also to applaud him for positively promoting the image and perception of Nigeria through his creative and stylish designs on an international platform.
Adebayo Jones, one of the leading African designers in Europe, is known for his fine, clean and classic lines while using the most luxurious and luscious fabrics, ranging from silks to brocades, velvets, chiffon's organza's, crochets and damask. Besides designing glamorous outfits for celebrities such as Patti Boulaye, Adebayo Jones has also designed and styled gowns for several winning Miss Nigeria contestants and for some finalists at the Miss Universe pageants. On the 18th July 2009, at ICECAPADE, Sade Adegoke of the N4LIFE team will be wearing some exclusive and breathtaking designs specially made for the event by Adebayo Jones.
Besides being part of a unique and innovative event, a classy champagne reception, exotic cocktails and delicious canapés are just a few of the highlights also included in the ticket price. Tickets are priced at £30.00 standard and £50.00 VIP, and can be bought on-line at www.naija4life.co.uk or through Ace Adegoke on +44 7944 344 288.
CONTACT:
Ace Adegoke
CEO, N4LIFE Entertainment
+447944344288
[email protected]
www.naija4life.co.uk