Saraki To Submit Self To SFU On Monday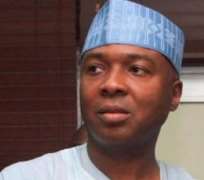 ABUJA, April 28, (THEWIL) – Former governor of Kwara State, Senator Bukola Saraki has confirmed receiving a report declaring him wanted by the Special Fraud Unit (SFU) of the Nigeria Police Force despite the adjournment, on Thursday 26th April 2012, of the ongoing legal suit by Honorable Justice Gladys Olotu. He promised to make himself available on Monday for questioning.
Senator Saraki had earlier established dialogue with the SFU of the Nigeria Police Force in response to their request that he assist them in their investigations into a transaction between Intercontinental Bank and a company, Joy Petroleum.
"While he has no connection with the aforementioned company, Senator Saraki has consistently assured of his willingness to avail the investigative agency of any information they feel will assist their task, provided the agency furnishes him with the basis on which they want to keep inviting him as he had already gone through these procedures on numerous occasions previously," a statement signed by Akintoba Fatigun, a spokesperson of Saraki, said.
"Senator Saraki will like to remind the public that he has not done anything wrong and was only exercising his constitutional rights by asking the court to intervene in defining whether the Force was following the regular police procedure in line with the manner with which they are handling the investigation."
Confirming that Saraki will turn himself in on Monday, the statement further said, "Senator Saraki assures Nigerians that he maintains that he has not contravened the laws of Nigeria, and while awaiting the decision of the Abuja High Court on May 22nd 2012, he will nonetheless be making himself available to assist the SFU at the appropriate office 9am Monday morning on 30th April 2012."