Chocolate truffles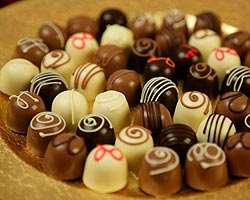 Article By: Henrie Geyser
When it comes to sexy food, chocolate must rate in the top three and I'm an absolute chocoholic! Dark chocolate, chocolate with nuts, creamy white chocolate, chocolate mousse and lovely rich chocolate truffles are all made in heaven, as far as I'm concerned.
Chocolate truffles have an air of snootiness about them, yet they are absolutely simple to make and they make for wonderful desserts.
The beauty of truffles as that you can add your own favourites to it — a dash of rum or liqueur, chopped nuts, chopped dried fruit, whatever…
Today's recipe is for simple, plain truffles which you can serve on their own with good strong coffee and/or a glass of port.
I have a friend who makes rum custard (just plain old custard with a dash of rum added) which he serves as a 'dip' with his homemade truffles and it's quite delicious.
To make enough truffles for four you need:
# 50g butter (unsalted), broken up
# 240ml double cream
# 280g dark chocolate
# 2-3 tablespoons cocoa powder
Instructions:
Break the chocolate into pieces and place in a bowl over a pot of boiling water.
When the chocolate has melted add the butter, one piece at a time, stir well, then pour in the cream and stir well.
When the chocolate, butter and cream have blended remove bowl and set aside to cool.
Place bowl in the refrigerator for five hours (do this in the morning so that is ready to be made for dinner).
Remove chocolate from the refrigerator about 30 minutes before you make the truffles.
Sprinkle the cocoa powder onto a plate.
Shape the chocolate into balls and roll them in the cocoa powder.
Refrigerate for an hour or so before serving.
Footnote: You should get about 12 truffles from this recipe quantity, so if you know your guests really like chocolate double up on the quantities and make more. If there is a truffle or two left over it will keep for a day or so in the refrigerator — or until the first midnight-snacker discovers them!