Senate Orders Rededication Of Electricity Line To Abuja Airport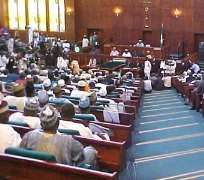 ABUJA, April 24, (THEWILL) - The Senate on Tuesday ordered the Power Holding Company of Nigeria (PHCN) to immediately dedicate a power line to the Nnamdi Azikiwe International Airport, Abuja.
This came as seven foreign airlines — Egypt Air, Qatar Air, Air Italia, Air Morocco, Ethiopian Air and Air Rwanda — may have accepted tax evasion; but they gave conditions for making refunds.
The Senate's order was made in response to frequent embarrassing power outages at the airport, the latest being last Saturday, which trapped passengers of British Airways.
Chairman of the Senate Committee on Aviation, Senator Hope Uzodinma gave the order after a meeting with the Minister of Power, Prof. Barth Nnaji, PHCN and Federal Airport Authority of Nigeria (FAAN) officials in Abuja.
Uzodinma also mandated PHCN to establish its station at the airport with full complement of staff. The meeting was called to address the circumstances surrounding the sudden blackout, which was described as a national embarrassment.
More than 200 passengers on British Airways flight from London were said to have been trapped on board for over one hour on Saturday due to blackout. The incident caused members of Senate Committee on Aviation to make an unplanned visit to the airport for on-the-spot assessment.
Unsatisfied with the explanation offered by FAAN Regional Manager, Mr. Chris Bature, Uzodinma invited the management of PHCN, FAAN, National Integrated Power Project (NIPP) and Julius Berger Plc to seek ways of putting a permanent stop to power outages at the nation's airports.
Uzodinma described consistent power outage at the country's airports as national embarrassment and vowed to employ parliamentary powers available to his committee to reverse the trend.
At the consultative meeting, Liaison Officer, Abuja Electricity Distribution Company, Abdulganiyu Umar blamed FAAN for not liaising with PHCN to address power problem at the airport.
Nnaji assured that a dedicated PHCN power line would be linked to the airport as part of measures to address its power problem. He also said that there would be round-the-clock presence of PHCN staff at the airport's PHCN control room.
Uzodinma asked FAAN to draw a schedule of responsibilities at the control room to facilitate the identification of the culprit in the event of power failure.
In a related development, seven foreign airlines operating in the country have agreed to refund the balance of five per cent tax, which they failed to pay to the federal government.
The airlines said that once National Civil Aviation Authority (NCAA) computes the tax and it is established that they are actually owing, they are prepared to pay.
The Senate Committee on Aviation invited the foreign airlines as part of its investigation of the discriminatory air fares charged on Nigerian travellers.
British Airways is the only foreign airline that has not agreed to pay.