IBORI: THE POLITICS OF CORRUPTION TRIALS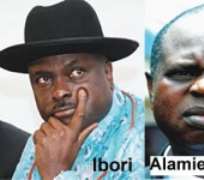 While the imprisonment of former Delta State Governor, James Ibori, in London is celebrated, ALLWELL OKPI writes on the politics that ignited the process as well as other corruption trials
Apart from the former Governor of Bayelsa State, Diepreye Alamieyeseigha, former Governor of Delta State, James Ibori, is the first former public office-holder of that calibre to serve a prison term for looting state funds and other corrupt practices perpetrated while in office.
In fact, Ibori would be the first former governor to actually spend some years in prison as a convict, considering that Alamieyeseigha was released from jail about a day after he was sentenced.
It would be recalled that Alamieyeseigha was detained in London on charges of money laundering in September 2005. Three months later, he jumped and fled the UK, allegedly disguising himself like a woman.
Then on July 26, 2007, Alamieyeseigha pleaded guilty to six charges before a high court in Nigeria and was sentenced to two years in prison on each charge, which was to run concurrently.
And since it was counted from the point of his arrest nearly two years earlier, he was released on July 27, hours after he was taken to prison.
The convictions of Alamieyeseigha, Ibori and that of the former Chairman of the Nigerian Ports Authority, who was also the National Vice-Chairman in the South-West zone of the Peoples Democratic Party, Bode George, remain the only high-profile corruption cases that have resulted in prison terms since the establishment of the Independent Corrupt Practices and Other Related Offences Commission and the Economic and Financial Crimes Commission in 2000 and 2003 respectively.
It is widely believed that these three men, Alamieyeseigha, George and Ibori, who were at some point untouchable, ended up in jail largely due to certain changes on the nation's political scene.
In Alamieyeseigha's case, he had fallen out of favour with the then President Olusegun Obasanjo and shortly after he was impeached, the EFCC went after him.
It is also believed that the change of government at the federal level also facilitated the successful prosecution of George, who was a powerful political figure during the reign of Obasanjo.
However, Ibori's case seems to glaringly portray the influence of politics on the prosecution of corruption cases involving politicians or their close associates.
The testimony of the UK prosecutor, Sasha Wass, at the Southwark Crown Court, London, showed that Ibori had mastered the act of aligning with the government in power to protect himself from prosecution, while positioning himself to loot the state treasury.
After returning from London where he had been allegedly convicted twice for theft in 1990 and 1991, Ibori started out with serving former Head of State, the late Sani Abacha. When Abacha died he shifted his allegiance to former Vice-President Atiku Abubakar and then to President Olusegun Obasanjo, and played a major role in pushing the infamous third-term agenda, while he was governor of Delta State.
After he finished his two-term as a governor and lost his immunity from prosecution as prescribed by the Constitution, Ibori found another cover by installing his relative, Emmanuel Uduaghan, as governor of Delta State as well as aligning himself with the late President Umaru Yar'Adua, whose campaign he (Ibori) allegedly bankrolled.
As the tenure wore on, there were indications that Ibori was gearing up to become vice-president to Yar'Adua in his second term in office, to replace President Goodluck Jonathan, who was vice-president then.
However, the death of Yar'Adua, before the end of his first tenure changed the political calculations, with Jonathan taking over at the helm of affairs.
That singular change in government, many believe, resulted in EFCC re-opening Ibori's case in 2010, forcing him to flee to Dubai, United Arab Emirates, where he was eventually arrested and extradicted to the UK.
It would be recalled that the first attempt by the EFCC to prosecute Ibori in 2007, while Yar'Adua was president, was unsuccessful and shortly after the then Chairman of EFCC, Mallam Nuhu Ribadu, was not only removed from office, he was demoted and dismissed from the police.
Ibori's corruption case was transferred to the Asaba High Court and a new judge appointed in the person of Marcel Awokulehin to handle the case, dismissed all 170 counts against him without hearing any evidence at trial.
But when there was change in government, Ibori preferred to be tried in the UK rather than in Nigeria, where he had earlier been declared not guilty.
A Senior Advocate of Nigeria, Prof. Yemi Osinbajo, told SUNDAY PUNCH that the fact the Ibori could not be brought to book in Nigeria, was an indication that the country's criminal justice system was weak, and plagued by political interference.
'It is a reflection of the fact that the criminal justice system of Nigeria is extremely weak. Not only the judiciary, the entire system, including the process of investigation, seem to be in regression. Not just that Ibori was convicted but the fact that he pleaded guilty, admitting to stealing public funds is to show you that they must have really closed-in on him.
'If you followed the investigation of Ibori in this trial, you would discover that a fair amount of money was expended in the process. The evidence that were used to nail Ibori were already gathered before the UK Metropolitan Police obtained a warrant to arrest him.
'Here, what happens is that before sufficient evidence is gathered, the Economic and Financial Crimes Commission arrests the person and makes a lot of noise about it.
'However, in my own opinion, the EFCC, as constituted presently, is well able to investigate and prosecute anybody, because they were equipped and trained for it. What is lacking most of the time is the political will to execute such cases. Most times what you see is that those who have fallen out with the powers that be are harassed, while those who are still in line are protected,' he said.
Similarly, Second Republic Attorney-General of the Federation and Minister of Justice, Chief Richard Akinjide, said irrespective of political interference and other flaws in Nigeria's criminal justice system, if there was sufficient evidence against Ibori before a court in Nigeria, he would have been convicted in the country.
'It is not necessary to compare the English criminal justice system with that of Nigeria. I think we should learn a lesson from what has happened. One major difference between the trial here in Nigeria and the one in the UK is that for the UK trial, the evidence were clear. I believe that if the same evidence were placed before a Nigerian court, I think he would have been convicted in Nigeria,' he said.
In the same vein while reacting to the sentencing of Ibori and pledging to further prosecute him when he returns to Nigeria, the EFCC said, 'The sentencing of Ibori was based on the foundation of the case built by the EFCC in 2007 which unfortunately was thrown out by the Federal High Court, Asaba for lack of merit. The same fate has lately befallen other EFCC cases, notably the Erastus Akingbola, Ndudi Elumelu, Dimeji Bankole and Gbenga Daniel matters. They were all thrown out by the courts purely on technical grounds without consideration of the substantive issues.'
The Commission stated that 'The fact that a case which supposedly lacked merit in Nigeria could fetch a 13-year jail term in the UK after a landmark guilt plea, brings to the fore the need for a reassessment of the nation's justice delivery process. We must strengthen our judicial institutions if we are to make any headway in the anti-graft efforts.'
However, it is worthy of note that since inception, the EFCC has arraigned about 19 former governors on corruption charges, but none of them is currently serving prison term in Nigeria.