Aids is China's deadliest disease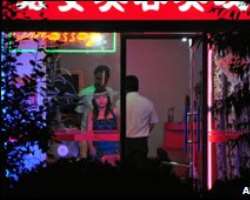 officials have said that HIV/Aids was the leading cause of death last year, compared with other infectious diseases.
It is thought to be the first time this has happened.
A report by the country's state media said HIV/Aids had led to the deaths of almost 7,000 people in the first nine months of 2008.
The number of deaths caused by tuberculosis and rabies fell back into second and third place.
The numbers are increasing dramatically - China's Ministry of Health say that until three years ago, fewer than 8,000 people altogether had died from HIV/Aids.
By last year, the total had risen to five times that many.
Data on HIV in China are still unreliable. Official reporting of cases does seem to have improved.
The central authorities seem more willing to recognise HIV as a public health crisis and address it with education campaigns.
But there are still concerns that officials at local and provincial level are under-reporting, either by mistake or because they think it's not in their interest to show rises.
This latest news comes as the spread of HIV in China has entered a dangerous new phase.
Initially it was concentrated in high-risk populations, injecting drug users in particular.
Infection from contaminated blood transfusions was also common.
More sex
But now the main cause of transmission is thought to be unsafe sex.
China is still a deeply conservative society - but it is also going through a period of rapid social change.
Greater freedom of movement means millions of migrant workers have left small communities to enjoy the anonymity of cities.
Male workers, away from their families, have more sexual opportunity.
Prostitution has increased. Premarital sex is also becoming more acceptable.
On Tuesday, the World Health Organisation warned of a steep rise in HIV amongst Asian men who have sex with men, unless prevention programmes targeting them were greatly improved.