The scents of love for Vals day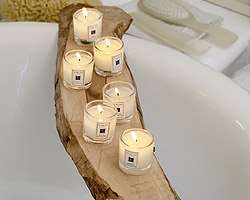 With the global trend towards entertaining at home, more and more people are looking to create a sense of sanctuary and indulgence in their own homes. And what better day to do this than on Valentine's Day? Get some candles, fragrances and seduce your partner...
Fragrance has a memory. Everyone knows how powerful a scent is in invoking memories and a sense of nostalgia. Use fragrances that bring back memories or feelings with your partner, or create new memories with new blends of fragrances.
Fragrances are also very mood enhancing. A study of the interaction between odour, the sense of smell and the human mind, has revealed that certain fragrances have a calming effect in stressful situation, while others keep us alert and feeling energetic.
According to traditional wisdom, aromas such as bergamot, lavender, violet and rose can alleviate nervousness, while lemon, orange and jasmine can lift the mood.
What mood to create?

All of the five senses work together and the sense of smell in particular, works very closely with the sense of sight.
Think about the kind of atmosphere you are trying to create, and use visual elements and textures to complement the scents.
For example, if you are planning a romantic dinner by candlelight for two, go for a cozy, romantic feel, by combining rich warm colours and homecooked foods, with velvety, soft furnishing and rich fragrances such as Jo Malone's Pomegranate Noir blended with Red Roses.
However, if you are planning a casual evening outside under the stars, go for fresh, crisp white linens and similar fresh fragrances, such as Jo Malone's Lime Basil and Mandarin.
Scented candles are particularly romantic for Valentine's Day, as they give off a subtle fragrance, while adding beautifully to the atmosphere.
The fragrance in your home should be as inviting as the scent that's worn on your skin. Don't be afraid to experiment and combine your own scents to create something new that reflects your personality. Use a combination of scented candles, living colognes and scent surround sprays to create the perfect ambience.
What scents to choose?
You can change the ambience of an area to reflect the moods of day and night — either through different scents for each or by combining some as time progresses.
For a dynamic, lively fragrance for the day choose light citrus, fruity or green floral fragrances. As the evening draws in, choose from sultry spices and heavy floral that will create a sense of drama and intrigue.
Jo Malone's Red Roses fragrances are particularly lovely for Valentine's Day. Unlike many rose fragrances, which are cloying and overly sweet, this uses the scent of seven different types of roses to create green floral overtones to create warmth and familiarly, while still being fresh and dramatic — just like a bouquet of fresh flowers.