Damagun Boko Haram Attack Freed Fourteen inmates - Police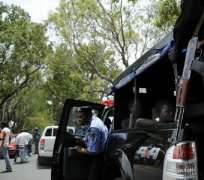 YOBE, March 29, (THEWILL) - Wednesday evening's attack by men of the Boko Haram Islamist sect on a Damagun police station resulted in the jailbreak of 14 inmates, police sources have confirmed.
The residence of a group of Korean nationals in the town was also torched in the one-hour onslaught, which comprised an attack on a police station, a makeshift military base and a prison.
Speaking to THEWILL on Thursday, spokesperson of the Yobe State Police Command, Assistant Superintendent of Police Toyin Gbadegesin, claimed that no policeman was killed while two suspected Boko Haram members were gunned down in the attack. He, however, confirmed injuries to three policemen. He also disclosed that a team of policemen and soldiers was still tracking the attackers who escaped into a nearby bush.
Recalling the incident, Gbadegesin said that the assailants arrived at the area in about 10 different vehicles, and threw Improvised Explosive Devices (IED) at the Damagum Police Station before they start shooting sporadically,
"The Police were able to kill two of the Boko Haram suspects in a shootout. There was no casualty on the side of the Police. And we are still combing nearby bush in search of the fleeing suspects," he said.
"For now, 14 inmates have escaped while some of them choose to return to the prison after being freed," he said. "One residential building belonging to some Korean nationals was also burnt but no casualty was recorded."
Nevertheless, an eyewitness who spoke with THEWILL debunked Gbadegesin's claims that no Police casualty was recorded, describing it as a cover-up, face-saving statement.
"The sect members came unannounced and attacked these facilities. They initially had an edge as the policemen and soldiers were forced to retreat under the heavy attack.
"How on earth would a well-coordinated attack by mean attackers claim two casualties on their part whereas an unprepared and dominated force had no casualties," he queried.