JUSTINA MUTALE GETS THE GAB!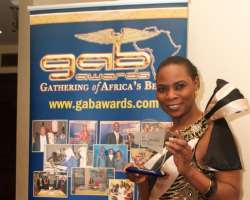 London, Tuesday 11 November 2008. Justina Mutale has been honoured with the 2008 GAB Award for outstanding work in Community Development through Fashion & Beauty.
The GAB Awards (Gathering of Africa's Best) recognises, celebrates and rewards excellence in distinguished sons and daughters of Africa who have changed and impacted lives positively around the world, and have contributed to the positive image of Africa and Africans around the world. Previous recipients of the GAB Award include Nelson Mandela.
Justina is the CEO and founder of Perryfield Promotions, an international PR & Media company based in the London. She is also the founder of the Miss Zambia UK Beauty Pageant, a social responsibility initiative based on the principle of "Beauty with a Purpose", ultimately aimed at charitable and community works. Miss Zambia UK is dedicated to the memory of all Zambian women who have died of HIV/AIDS. Winners and title-holders use their title and influence to raise funds for HIV/AIDS orphans and other underprivileged children, during the period of their reign and beyond. the pageant is also a global PR camapaign to profiel Zambia and its people. http://bhfmagazine.com/contents/bhf_misszambia_intro .html
In her strong belief that models and beauty queens can be influential advocates of good and worthy causes, Justina utilises fashion and beauty as a creative opportunity to give back to society. Against this background, Justina recently founded POSITIVE RUNWAY – Global Catwalk to Stop the Spread!, which is a global HIV/AIDS response campaign aimed at sensitising and educating the public by raising awareness to various issues affecting the young generation such as HIV/AIDS awareness and sexual responsibility, as well as violence, substance abuse and the many other negativedemands of peer pressure.
The campaign tours the world working with beauty queens, models, fashion designers and music artists in collaboration with celebrities from film, music, television, sport and other arts, as effective advocates in the fight against HIV/AIDS and other scourges effecting today's young generation. http://bhfmagazine. com/contents/bhf_positivelondon2. html
In 2006, Perryfield Promotions incorporated International Style Celebrity TV Chat Show based in Atlanta, USA, with the ultimate aim of getting African-American celebrities from film, music and television to renew their ties with Africa and contribute to the development of the continent.
Justina is also a major player in the organisation of the annual African Ambassadors Interactive Forum, whose main objective is to engage African Ambassadors & High Commissioners, together with the African Diaspora as economic gateways, and to foster greater co-operation of the African Diaspora with their Ambassadors and Missions in order to support increased investment flow to Africa, while strengthening Consular relations with their citizens in the African Diaspora.
Through Miss Zambia UK Beauty Pageant, Justina has created role models in her title-holders and other finalists who have become international goodwill and cultural ambassadors for Zambia. Miss Zambia UK 2008 will support and work with the All Star Kids Charity and the campaign for the 75,000 Street Children in Zambia, of which Justina is a Trustee. http://www.allstarkids.org.uk
The Miss Zambia UK Beauty Pageant, has worked with, sponsored and supported many charities for children in Zambia and other parts of Africa, most of whom are building schools and clinics to provide underprivileged children with a much needed good education, healthcare and welfare.
For more information, please contact Nina Martin, Perryfield Promotions, Tel: + 44(0) 7875 380 592 Email: [email protected]