I Don't See Any Wedding Coming Soon - Nadia Buari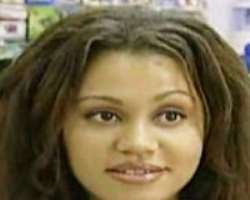 Here is a recent interview from Nadia Buari with TOPE OLUKOLE talking about acting, her modeling career and the answer every one wants to know "When you getting married?".
Can you tell us about your background?
I was born on November 21, 1982. I am an half-caste.
How did you get into the movie industry in Ghana?
I've always wanted to act right from my youth days. When I was in the college, I took a course called Performing Arts, that deals with theatre and acting.
I produced a stage play, 'Mad Again'. It was directed by a final year student, who later got a job in a production house and called on me. It was a TV soap series; I was auditioned for a part and got it. After some time, I got a phone call and I therefore joined them. I can say precisely that the final year student that I'm referring to paved the way for me.
What's your first movie?
My first movie is Mummy's Daughter. After that, I featured in many films both local and international. I featured in Beyond the President's Daughter and the one that was collaborated by Ghana/ Nigeria titled A woman's Heart. Recently, I featured in American Soldier.
What is your secret of getting to the top with the few movies you've done?
I have been playing lead roles which really boost my image. I am very fortunate to be honoured, especially to be nominated for the best actress at the AMA last year. But I want to tell the whole world that I've just started.
How do you balance your school and acting?
It is difficult, especially when you don't have a flexible schedule; sometimes I have to shoot a movie and be on location for two weeks or even more. I have to miss class and when I come back I have to catch up. This is one of the reasons why I have not been able to produce a lot of movies. At times I may be in the examination hall when I would have a call that there is 'location' in so,so,so place, and vice-versa. And in this kind of situation I find things very difficult.
Do your parents support your career?
They are in full support. My father used to be an actor and director until he got into music full-time. He (father) is the president of the Music Guild of Ghana and he produces music.
Do you plan to take after your dad's career as a singer?
I'm terrible at singing! My dad has a studio and I try singing once in a while but my mom says singing is not for me. If I sing, I have to close my ears! I am simply bad at singing.
How do you see Ghana's movie industry in future?
Before now, people saw movie-making as a joke. They came on set to play; they weren't punctual. Now, it is all starting to fall in place. They are taking it serious. A lot of people are coming into it. I think this is because movies are getting recognised internationally. I think in the next years to come we will be able to boast a real 'Gollywood', we could be the ones organising AMA Awards! Producers are getting more serious. Actors are now going to school to acquire more knowledge. There is a lot of screening involving actors and actresses.
Do you see yourself in Hollywood in the nearest future?
I definitely look forward to doing some stuff in Hollywood. I am not working and staying at the local level. I am looking forward to be recognised internationally. I like to act alongside with folks like Denzel Washington and Leonardo Dicaprio.
Which Nollywood actors will you love to act with?
Ramsey Noah, Genevieve. I am in preparation to do a movie with Genevieve.
What do you do for fun?
Watch movies. I like to stay indoors; I'm not an outdoor person. I don't have friends, not because I am anti-social, for me it's all about my family. When I am not shooting a movie, I love to be with them.
Where do you see yourself in the future?
I look forward to being one of the biggest directors/movie makers, not only in Ghana but everywhere, basically all parts of the world, while still acting in my own movies. The more I make movies, the more you see me on TV. I am looking forward to be in the forefront of the Ghanaian movie industry. The first movie I intend to direct is a love story with a murder mystery. The whole feature is a twist and turn which makes it really interesting. I think I am going to make a break with my first movie. It's different; it's not your usual love story.
Modelling has become a trend with actors/actresses, are you a model too?
Not yet; I haven't had any offer. I am looking forward to being on billboards; I dreamt about it when I was young. I used to model when I was 13 but when I gained weight I stopped!
Any misconception you would love to address?
I want people to know that the fact that I don't mingle with people doesn't mean that I 'm anti- social or bitchy. I am different, very down- to- earth and humble; I get calls saying I am this and that. For instance, when I'm in location I don't normally sit or chart around like others. I just do my job and leave. At times they say I don't want to be their friends and that I 'm too proud and contrary to that I'm a simple person.
Would you tell us about your marital life?
I am not married yet and I don't see any wedding coming soon.
How is your relationship with Jackie and Van?
We are very, very good friends. It is better having a friendly relationship with one another, so when acting, it flows and looks more natural. Since Van and Jackie are the people I normally act with, I have established that friendly relationship. Jackie, Van and I are all very good friends.