BOKO HARAM; HOW SAFE IS PRESIDENT GOODLUCK (II)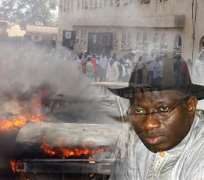 In every political clime like Nigeria which has tendencies for roguery,it is very dangerous for so much funds tobe concentrated on so few hands. Some Nigerians especially those in the oil block and oil bunkering businesses are individually worth over$10 billion dollars.At least twenty oil magnets in Nigeria are worth that much .Their shrewd investments of the stolen wealth have ensured steady increase in net worth over time. Some of these people arepart of the sponsorship of the PDP branch of Boko Haram. They are equally so connected that security agents fall over themselves to give them sensitive informations for a handsome fee or in return for career advancements and godfatherisms.
The nations security arms are gradually through intelligence gatherings and uncompromised operations,apprehending thefootsoldiers of pro-sharia and al-queda Boko haram.The PDP Bok Haram is still as free as air. Though some of them are irritated by the developments and aretrying to seek tacit withdrawal ,however their masterminds are not moved by the recent developments. Their sponsors-in –chiefs are not afraid of President Goodluck. Their only ferais that an expose on their activities could turn to a political deficit especially with the unanimous condemnation of the bloodletting by both Christians and Muslims of Nigeria.
President Goodluck said in Januarythat the sponsors of Boko Haram are in High places. The national security adviser, General Azazi have reiterated the same ting just recently.These leadersof thepolity arespeaking in parablesand expect Nigerians to decod their message. They speak in tongues while the nation is boliing. All these hushed tones are carefulness in preparation for 2015.The PDP Boko Haram is fighting because of 2015, The presidency is equallyspeaking in tongues because of 2015. Everything has been reduced to 2015 succession politics. Who knows who will survive till 2015.
President Goodluck should at least tell Nigerians from the list before him,those indicted for sponsoring Boko Haram. He should equally gather the will to prosecute these PDP partymen as a deterrent or else another bunch of disgruntled politicians will toe the same line in the future. Failuretodo so is preparing the ground for instability.
There is a Biafran proverb that says thus" afowl that mocked when a guineafowl is being slaughtered knew not that the same fate that befell the guineafowl will soon befall him" These Sponsors-in –chiefs of Boko Haram havethe abilityto clinically execute agendas and provide a perfect alibi. Their tactics supercedes the Sanni Abacha- Al mustapha open and brutal operandi. MKO Abiola wasexpecting to be released from detention and they waited till the foreigners came calling before striking. Who would you accuse of the murderof Abiola. Shortly after Abiola's death ,Tunde Idiagbon, the anti-corruption deputy to Muhammadu Buhari was warned by a friend not to taste anyhing at the statehouse when invited for consultations. He felt that he was smarter than the masterminds until he suddenly took ill of strange weakness after the visit and died shortly.
Disclaimer:

"The views/contents expressed in this article are the sole responsibility of

thewillnigeria.com

and do not necessarily reflect those of The Nigerian Voice. The Nigerian Voice will not be responsible or liable for any inaccurate or incorrect statements contained in this article."
Articles by thewillnigeria.com