Samata's Muse dresses all 13 finalists in TMC competition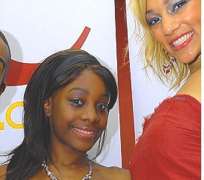 Award-winning Ghanaian designer Samata Angel recently dressed all 13 finalists in the UK's Mahogany Top Model of Colour competition where thousands of women of colour were cut down to find the Top Model of Colour in the UK.
In a recent interview with the Independent Sola Oyebade, managing director of Mahogany Models, the model agency behind the Top Model of Colour competition, said: "This event will start the debate. We've been trying to get more ethnic minority models into the industry but if you don't hold the purse strings or the power then no change can happen. Everyone looks at Naomi Campbell as the black model who's made it, but ...isn't it worrying that no-one else has come along?"
There is a big furore going on in London about racism within the industry and the bias against black models which is why this competition has so singificant. Samata also received a letter from the Prime Minister, Gordon Brown, after he heard about her clothing label Samata's Muse taking part in the New York Nolcha Fashion Week, congratulating her and wishing her the best.