Grandparents: forgotten victims in divorce trauma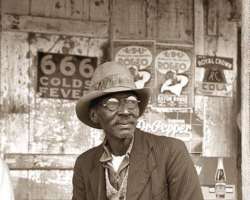 An oldman on porch of general store near Jeanerette, Louisiana
LONDON, Sept 19 (Reuters Life!) - At the age of 55, Pam Wilson gave up her job as an occupational therapist to help look after her son's baby daughter.
When he broke up with his partner, she was banned from seeing her granddaughter for almost three years.
Prompted by her personal nightmare to set up a pressure group for grandparents, she said "We are the forgotten people. The fact that you are powerless to do anything is the most hurtful thing of all."
"It was the most horrendous thing I have ever been through in my life. For the first three months I felt like a zombie," said Wilson whose Grandparents Action Group receives a steady stream of calls from heartbroken and bewildered grandparents.
Some grandparents who came to Wilson with their distressing pleas for help died without ever seeing their grandchildren again. She felt their deaths had been hastened by a broken heart.
Children are of course the biggest casualty when a couple breaks up -- but all too often grandparents also suffer at a time when they could act as a much-needed anchor.
"We are often the peacemakers and the bridge between separated parents. We are a place where children can come away from the conflict," said Wilson who ended up going to court to get access to her granddaughter.
Figures from the Grandparents Association, a support group which seeks to protect and promote their rights, show how huge the problem is among Britain's 14 million grandparents and highlights how dependent today's parents are on "granny nannies."
Sixty percent of childcare provision in Britain is provided by grandparents who are estimated to save the economy four billion pounds a year.
But when a couple's relationship crumbles, disaster all too often strikes across the generations and there are now over one million grandchildren who are denied contact with their grandparents.
Three years ago, the association was getting up to 2,000 calls annually from concerned grandparents. That figure has now soared to 8,000 a year.
So what advice do they get given?
Spokeswoman Lynn Chesterman stresses the positive and the practical: "Don't take sides. Be there for the children. Let the adults do the fighting and the shouting."
But Chesterman, who as a grandmother had to practice what she preaches after her son split up with his partner, said: "It is hard, it is very, very difficult."
"By the time grandparents come to us there has often been quite a trauma. The separation comes like a bolt out of the blue. You just have to get over the shock and support the kiddies."