DON'T SCANDALISE JONATHAN, REPS WARN NSC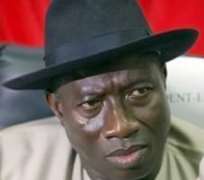 • Jonathan
Deputy Chairman of the House of Representatives Committee on Sports, Hon Ayo Omidiran, has warned the National Sports Commission (NSC) to do everything possible to avoid scandalising President Goodluck Jonathan, warning that the President has enough challenges hanging on his neck.
Hon Omidiran, who gave the warning while reacting to NSC's plan to obtain a direct approval from President Jonathan to spend N350 million from the unapproved 2012 budget for the 2012 Olympic Games, maintained that the fuel subsidy challenge was enough for the Federal Government, stressing that it would be bad to put a new negative tag on the government.
'The fact must be set straight, so that we don't have things coming from the Presidency wrongly. Supposing we were not there when the money approved comes to the floor of the House for clearance, what would then happen?
The Honourable colleague who raised the issue was correct because he was trying to teach them the correct way of doing things and I think the commission should accept it in good faith. Whatever money should be approved to them should pass through us before it goes to the Presidency.
'There is no way the Presidency is going to spend any money without appropriation from now on. I'm sure they don't want to be involved in another mess. The fuel subsidy mess should be enough for them. The commission should know that we are partners in progress. So, for us to get the result, they must inform us what they really needed in terms of funds for us to expedite action on it,' the former NFA board member said.
In the same vein, Hon Ken Chikere, representing Port Harcourt Federal Constituency had, while speaking against the action of the NSC in the N350 million controversy, argued that since Olympic year comes in four years, the London 2012 Olympic Games should not have taken them by surprise. 'The issue of Olympic we are talking about is not an event for a month. For the commission to go to this extent means that we have management problem. The Olympic is a four-year event, how come we are talking about preparation which ought to have started before the end of last year.
'If we have the right management, it should have been provided and if we have management problem, they should tell us so that we can correct it. This explanation has brought to the fore certain issues we must look into before we look into the 2012 budget. 'Many issues have not been sorted out because we have started hearing about state government taking up the completion of some of those uncompleted projects,' he noted.