I shared a small room with four girls during my stay in South Africa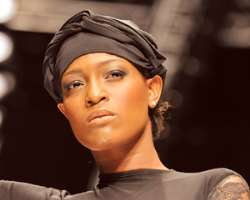 Marcia Okhai, first runner-up in the Next Nigerian Super Model contest in 2008 and a former model with Joan Okorodudu's Isis Modeling Agency, relives her experience in this interview with COMFORT OSEGHALE How did you meet Mrs Joan Okorodudu?
I met Joan through Monami in 2008. I was modeling his clothes for his fashion show. After the show, Joan called me to congratulate me on my performance. I thanked her and left. I didn't know who she was, though I had noticed she applauded me each time I went on the runway. Minutes later, Monami called me. He wanted me to meet someone. That person was Joan and Mr Alex Nwuba who later became my manager. Mr Nwuba asked if I had a Z card and I said no. He became my sponsor and my first modelling portfolio was made. She even asked me to contest in her next pageant, Nigeria's Next Super Model 2008. I was so excited and I took a liking for her. She was very nice in the beginning, so it was easy to like her.
What were your prizes for emerging first runner-up in the 2008 NNSM?
I was supposed to get a contract with her agency, ISIS Models, in South Africa. I was to represent Nigeria at the Best Model of the World contest in Turkey and get a chance to walk at Mercedes Benz New York Fashion Week in February of 2009. CY was to get a car and a cash prize and a modelling contract to work in South Africa also.
So did you represent Nigeria at the Best Model of the World contest and walk at the New York Fashion Week?
No. Joan didn't make preparations for my visa for Best Model of the World until the last minute. It was the same with New York Fashion Week. I was in South Africa without a work permit or legal visitor's visa, so there was no way I could go to the American embassy to apply for an American visa. The visa on my international passport had expired on the 15th of January 2009.
While the NNSM 2008 was going on, where were the contestants quartered?
We were all staying at a Guest House in Lekki. It had several apartments; two-three- bedroom apartments. We took two apartments in one building and one in another building. The apartment I stayed in was a three-bedroom flat and each room had three girls.
How would you say the accommodation was?
It was okay. I had no problem with it. It was the feeding everybody had a problem with.
So you never had a problem with Joan at the beginning?
No, I never had any problem with her. It was my fellow contestants and her advisers that kept trying to rubbish me and tarnish my image with Joan. The contestants kept using our chaperone, Joy Elumelu, who is Mrs Okorodudu's sister-in-law, against me. In fact, Joy Elumelu told them that she would evict me. That was why I looked upset in all the pictures I took on that day. I just told myself that I would do my best so that it would be clear to the general public that I couldn't be evicted. Actually, she called me up for eviction; it was just that I was lucky to be picked to join others who were not called up for eviction.
You said that Joan seized your passports when you got to South Africa…
Yes, she did. She seized it at the airport while we were waiting for whoever was going to pick us to where we would be staying. She said it was for safe keeping. We had no work permit and in South Africa you need a work permit/work visa if you intend to work. I can prove it with my international passport. It is reflected there that I came into South Africa with a visitor's visa and no work permit.
If you had no work permit and couldn't work, how did you survive?
We all had to start calling our parents to send us money, which shouldn't have been. It was our understanding when we were going to South Africa that we were going to work. To worsen matters, if you want to transfer money to a non-citizen in South Africa, you need valid documents, which we didn't have. To get past that, you would have to send money through relatives or friends who were coming to South Africa or take the risk of sending the money through Joan herself. I had to ask my adopted father, Mr Chris Aigbe, for money. I specifically told him that if there was no one coming to South Africa from Nigeria, the money should not be sent. I told him I would manage until I came home for Christmas.
Why was it risky to send money through Joan?
Whenever parents sent money through Joan, she would make deductions and give their children little or nothing. She would say she was deducting her house rent, visa fee and all sorts of expenses. Meanwhile, we paid for all these things before we left Nigeria. When we paid for our visas, our accommodation and sundry things were paid for. Since we were at her mercy, she would tell us we paid for only three months, we didn't pay up to one year and all that.
How was your accommodation like in South Africa?
Our accommodation was the second shocker after she had seized our passports. We had thought initially that it would be a single room to each girl, because that was what we paid for in Nigeria. But we were all kept in a single, small room. The kitchen and toilet were in that same room. There were already two models there when we came. So one person left and went down stairs and we were now five. There were only two beds in the room, so two girls slept on one bed while one slept on the floor.
Did you at anytime sell your bodies to survive?
No, I didn't. No one did to my knowledge. Instead, we would all cry and lament together. Perhaps Joan wanted us to take to the streets, but nobody did. Most of her models usually ended up looking for jobs as bartenders and waitresses just to make ends meet. Even the publication by Global Excellence is all an attempt to tarnish my image. They published a picture that I took when I was just starting out my career as a model. The picture is just one of the many that Kelechi Amadi took of me when Mr Alex Nwuba was my manager. Now they are trying to make it look as if I just flaunt myself everywhere.
What was your problem with Cynthia all about?
Really, till this moment, I can't place a finger on what the problem is. It first started as a typical girl fight in camp. Perhaps she thought I was after her crown, so we kept having issues. Even when we were in South Africa, she kept on saying I was jealous of her crown. Perhaps it was when she saw that that wasn't enough to break me that she resorted to the boyfriend snatching story. That really hurt because my mother never wanted me to be a model because of such stories. I had to plead with her for years to get her blessing, only for me to get this kind of accusation. This is someone I had only met once during the Dakova fashion show before the NNSM, and we didn't even speak. It is not as if we were close friends. She is based in Benin and I live in Abuja, so from where did I snatch her boyfriend?
You claimed on facebook that you were not paid for all the jobs you did in South Africa for Joan.
Yes, I wasn't. Joan claimed the organisers did not pay her and even Bunmi Adekoya (the first runner up of the NNSM 2007) was not paid. She said the organisers of the Terracotta and Noble Hair fashion show did not pay her. I am wondering how possible that is when they both used so many of Joan's models and Joan herself did not sue them. Even the Audi Johannesurg Fashion week, I wasn't paid for that. In fact, I didn't bother to ask her to pay me for the Audi Johannesburg Fashion week because Joan had already claimed that if anybody does a job, it takes three months before the clients would pay her. It is over 10 months now and I still have not got my money. The only time I got anything was when I stood my ground that I wasn't doing the Chicken Licking television commercial. I had gone for the first shooting. It had rained that day and the place was really far. It was when I told our booker that I wasn't going that Joan gave me 1000 rands.
There have been claims that models have "relationship visas". What sort of visa did you have?
Well, the visas she arranged for those I went with was a visitor's visa. It was when we got to South Africa that we learnt from the other models (girls and boys) we met at her place that Joan usually arranged a marriage or relationship visa for her models. I can't speak for them since I haven't seen their visas. They would have to come out and speak for themselves. All I know is that Mrs. Joan Okorodudu did a visitor's visa for me which I used to travel to South Africa without a work permit.
Story by www.nollywoodgists.com