Our Plans For Christmas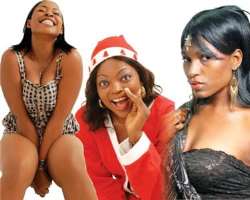 Christmas is no doubt the single most important celebration in Christendom. The preparation, fascinating spirit of peace and illuminating candour that pervade the environment when it is around the corner underline its significance.
Christmas, with December 25 dedicated to it, is said to have been celebrated since around 400 AD with the Christian community deeply involved in the celebration of the birth of Jesus Christ.
The word, Christmas, is said to have evolved from the combination of the words 'Christ' referring to Jesus and 'Mass', which was the name of a religious festival though another account says it is from 'Cristes maesse', an English phrase that means the Mass of Christ.
In Nigeria, like it is in other parts of the world where the ending of December every year is awaited with immeasurable eagerness and planning, notable names and celebrities make elaborate plans for the yuletide period like other people, high or low.
For actress, Funke Akindele, Christmas is about love and sharing. And she has plans to do just that. She plans to "have a small party with my family and friends, show love to the less privileged by visiting them and giving out gifts".
Omoni Oboli too is not left out. "This Christmas, I plan to relax a lot because I have worked very hard this year. I'll visit all my friends and family that I have been too busy to visit and I'll entertain as well. I am going to enjoy myself with my family because God has been awesome. The kids have worked very hard in school, so I'll treat them too," she revealed.
Winner of Amstel Malta Box Office and star of Cindy's Note, Mcwizu Bhaira, is toeing Omoni's path. "I would like to spend more time with my family and loved ones as it has been a very busy and fulfilling year. We never get to sit and gist plus play tricks on each other. I'm hoping we can do that this yuletide season".
True to her calling, musician Nikki Laoye was very generous with the God factor in her celebration. Hera her: "What I would really love to do this Christmas is to get God a huge gift, anything He wants, just to say thank you for all He's given me this year."
Knowing that the Man upstairs does not want any physical gift from her, she has other options. "Well, I can't give it to him so I'll 'do Him back' by spoiling my family, my friends, in whom I see God everyday. But of cause, like Oliver Twist, I'm already saying 'Daddy, I want more blessings this Christmas and after," she told us.
For anybody wishing to play Santa, past winner of Next Movie Star talent hunt show, Porttia Yamahan, has a list drawn up. If you want to send a hamper, let it include the following: One Christmas cake, VIP pass to Rhythm Unplugged, one week all expenses paid at Protea Hotel, a trip to Calabar and three pairs of DKNY knit pajamas. Other items include five pairs of Sergio Rossi peep toe pump (different colours), two bottles of Cartier Panthere Eau Legere fragrance and five different colours of Marc By Marc Jacobs handbags.
Her final word? "I guess all these would make a fantastic Christmas for me".
Another actress, Ufuoma Ejenebor is also thinking of charity. "I'd pretty much want everyone to happy," she begins.
"I'd like to see the hungry eat huge chicken drumsticks, the naked wear a fancy Givenchy ensemble, the homeless sleep on a king-sized bed in an enchanted castle, the orphaned surrounded by so much love to make up for the family they lack. I'd like to stare at my Christmas tree and imagine my many wishes come true, to sleep and wake up the next day, still with the ability to be grateful for the sunrise," she concluded lyrically.
Nigga Raw, the rapper who relishes in using his beloved Igbo language in all of his verses said "I think it is a personal thing really and different people have different ways of celebrating Christmas, but for me, it is a time that you have to be in the mood that Christ is born and you reflect and also try to show love to people around you.
"Well, for me, you know who I am now and being an artiste, it is a season of feeling good and we have to go ahead and do what we can do to make the people happy. There are quite lots of seasonal shows and stuff that are put up for me. A lot of travels and performances but I also will be visiting families, motherless babies' homes and other things like that".
Deji Falope, former Soundcity presenter and anchor of recently concluded Malta Guinness Dance Show also confirmed the significance of the season by saying, "I am thinking of going to Calabar for the Christmas period. That is because my brother is coming and he is going to be hanging out with Akon who is billed to be around too. I mean I am just proud of the fact that we have our own version of Rio de Janeiro (of Brazil) in Calabar and it is something we need to show the whole world especially at a time like this.
"Right now, there are not many places I can go that I enjoy myself. You have to look at the fact that the United Kingdom right now is cold; the United States of America is also cold but the city of Calabar is just perfect for me this time of the year."
For sensational music thriller and jazz enthusiast, Yinka Davies who is currently showing what she's got concerning dance steps in Celebrity Takes 2, her Christmas plans are in consonance with the processes of the dance contest.
Her short reply was: "I am on Celebrity Takes 2 and I am dancing to please The King till the end". The king in this context being apparently in reference to Jesus Christ, the subject of the yuletide celebration.
In outlining her own plans, Cynthia Omorodion, winner of the Next Super Model, toes the travel-back-to-the-village path: "There are really not much plans for me this particular Christmas. It is like a dull Christmas for me and I am going to be a bit homely except that I intend to go to my hometown, which is Benin and generally hang out with some friends and family members although I might have to travel out of the country but that is still being sorted out but, basically, no grand plans for me."
Not left out among those caught in the Christmas fever, broadcaster Ireti Doyle lent her voice: "I am going to be spending the Christmas with members of my family. Whatever other plans are going to be incorporated into the whole arrangement. I think the most important part of it is that I will be spending the period with my family."
Kunle Afolayan, producer and director of the pace-setting film, The Figurine also has his sights set on travelling back to his roots and spending time with his family.
"Christmas is a fun-filled time and I am going to be spending it with members of my family. We might not spend it in Lagos; this is because we will probably be going to my village. My village is called Agbamu in Kwara State and it is hopefully going to be an enjoyable time with friends and family this yuletide period," he disclosed
Story by www.nollywoodgists.com