Ali-Balogun's Tango With Me, raises the bar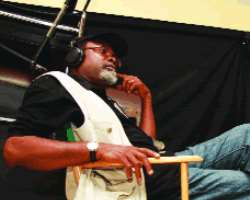 Veteran filmmaker and one of the leading voices in the Nigerian motion picture industry, globally known as Nollywood, Mahmood Ali-Balogun, recently completed shoot on his latest feature film. Entitled: Tango With Me, the big budget film, which has so far gulped over N50m, according to the meticulous filmmaker, would be released globally in the first quarter of 2010.
In a brief chat with us on the last day of shoot, Balogun, explained that it took him over two years to research on the story of Tango With Me, adding that the movie thematically harps on serious issues in the society, which most families often times neglect or treat with levity.
According to him, there are plans to screen the movie at the Cannes Film Festival, France, next year as well as other notable international film festivals before it would be officially released on DVD.As a serious filmmaker, Balogun believes that films should be used to impact positively on the society, as well as being used to tell the story of a peoples' culture, irrespective of the medium used. "Tango With Me, is a serious feature film that also treats serious issues in our society. It is also a big budget movie starring some of the biggest and most respected names in the industry. We have great role interpreters like: Genevieve Nnaji, Joke Silva, Alex, Usifo, Barbara Soky and a host of others in the film.
We decided to bring back some of these veterans in the movie because of the seriousness of the storyline. We shot with the best equipment from the US, meaning we are in tune with global best practices as far as Tango With Me is concerned," he explained before rushing back to set.Meanwhile, with this new addition to the long list of movies coming out from the industry, one thing that is certain is that Nollywood will never be the same again, by the time this star-studded movie hits the shelves in 2010. Keep a date with us soon, for the full interview with Balogun, who also shot Tango With Me, with some expatriate crewmembers at different locations in Nigeria.
Story by www.nollywoodgists.com/Azuh Amatus