AHEAD EAGLES/RWANDA CLASH: ENYEAMA NOT INDISPENSABLE -CHUKWU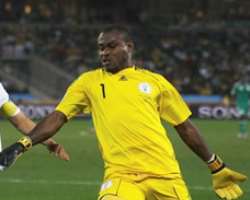 • Enyeama
A member of the Nigeria Football Federation (NFF) Technical Committee, Coach Christian Chukwu, has dismissed fears over the absence of Super Eagles' safehands, Vincent Enyeama, in the match against Rwanda, stating that there is no cause for alarm. According to the Eagles' former coach, Enyeama's replacement would not be a problem if he were not in form before the match next month, even as he declared that no player is indispensable.
He, however, warned Eagles to beware of Rwanda to avoid ax repeat of what happened last year, where they failed to qualify for the African Nations Cup.'I think Eagles have learnt their lessons from what happen last year and I foresee 2012 to be a good year for them. This year is going to be victory, all the way for the team and I know they are going to perform better this year in all competitions.
'As for the match against Rwanda, Eagles are going to cruch them. I'm quite confident about that because they have started very well, with the assembling of the home-based Eagles who are currently doing pretty well with the matches they have played so far. And with the inclusion of foreign-based players, they are good to go.
'This is not to say that they should underrate their opponents because any attempt to do that could turn out bad for them. 'As regards Vincent Enyeama's bench warming role in his club PSG, I don't see him being a problem to the team. If the technical crew feels that he is not in form, for crying out loud, he should be replaced using another keeper on the game against Rwanda. That does not amount to any risk because the first time he was used as Eagles' keeper, it was a risk.
And again, before he came as Eagles' keeper, there was Peter Rufai, Ike Shorunmu, Alloy Agu and others, so his absence would not in any way change anything. Even though, I believe somebody could still be in the bench and still in form, the very fact that he has been training with the team is enough reason for him to be form,' Chukwu said.