OIL SUBSIDY: NIGERIANS HAVE REASONS TO BE AFRAID -SOLOMON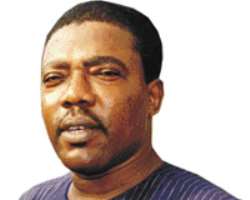 In this interview, the Senate Minority Whip, Ganiyu Olanrewaju Solomon, says the fear of the masses may not be totally unfounded in view of the failure of successive governments to judiciously use the money realised from subsidy removal to impact on the lives of the people. He insists that refineries must be put in place before the new price regime of petroleum products takes effect.
Excerpts…
What will be your honest assessment of the Senate so far?
I think the Senate is coming of age. If you look at the present crop of Senators, they are accomplished Nigerians and elder statesmen who have made their marks in their various endeavours. And they are bringing the vast experience which they have garnered so far to bear on legislative business. But the most important one which I am always quick to add is the fact that we are learning from the previous sessions of the Senate.
In the Fourth Republic, this happens to be the Fourth Senate, starting from 1999 up to the sixth which ended in 2007. And you can imagine the level of experience we have gone through in all those years of legislation. So, the present legislators are standing on the shoulders of the previous ones which is a good thing for democracy in Nigeria.
But to what extent has the Senate used that experience to partner with the executive to impact positively on the life of an average Nigerian?
If you are talking about the relationship between the executive and the legislature in relation to the populace at large, I think we still have a lot to do in terms of the perception of the executive of the legislature. Some of them have not imbibed the culture of democracy that gives different powers to different arms of government and also allows one to serve as a check on the excesses of the other. I think that is where the problem is.
We still have a situation where some executives still see the activities of the legislature on them as related to the oversight functions as undue interference. But apart from that, I think we're still working together and gradually seeing ourselves as representing the people. Again, we are now realizing that you also have to be accountable to the people. Closely related to that is the fact that both of us are realizing that you have to give a report at one time or the other whenever the people call upon you. All in all, I think we are gradually moving even though we cannot be compared to the older democracies. But with the rate we are going, we will get there one day.
The Senate President made one striking statement during the debate of the report of the committee probing the activities of the Bureau of Public Enterprise (BPE). He said that some interest groups are making moves to force the Senate leadership to sweep the report under the carpet. Is there any likelihood that those individuals found to have engaged in one shoddy deal or the other in the sales of many of these companies would be brought to book?
On the issue of the Senate being pressurized, it is not totally out of place to have interested parties or group mounting pressure on any particular issue. That is part of what legislators go through. On any issue discussed, you will always have pressure coming in the veil of lobby groups or stakeholders. But the most important thing is that you must be guided by the principle of rendering your duties as expected. Your position must be in consonance with the expectations of the people and also in the spirit of fairness, justice and equity. So, it doesn't really matter if the pressure is mounted on you. You don't buck as long as you are on the right part.
A former Minister of Petroleum, Prof Tam David West, has challenged the government to a debate on this issue of fuel subsidy, saying there is no subsidy on petroleum products as claimed by the authority. What exactly is the position of the Senate on fuel subsidy having received the report of the committee set up to investigate the matter?
Let me point out that we are yet to receive the report of that committee. They are still carrying out the investigation on the management of fuel subsidy fund. The motion talked about the amount spent so far on fuel subsidy for a period of nine or ten months.
And I think the motion put the total spending at N1.3 trillion or thereabout from N240 billion that was actually budgeted. So, what the motion was seeking is: what happened to the fund and how we have been managing that fund. Of course, there will be a lot of questions that will arise as a result of that motion which eventually led to the setting up of a committee to probe into the management of the fund. It is this committee that will now tell us whether we are actually subsidizing and to the tune of how much. It will also tell us what we are subsidizing. Is it product or transportation of the crude to the refineries?
We are being told that there are various aspects of this subsidy. So, we should be able to situate every aspect of this subsidy in the right perspectives. When we know which one we are subsidizing, we will be able to know which one is avoidable and which one is a waste. Unless we know all these facts, we may not get the right situation. But whatever we say now may be a prejudice to whatever is going to be the outcome of the findings of the committee. What you cannot take away is the attitude of an average Nigerian to this issue of subsidy. The average Nigerian believes that subsidy will bring hardship. And you cannot ignore that position. It is not too difficult either to understand their fears, if we have to go back to the memory lane.
The question is: what has always happened each time we claimed we have removed subsidy visa-vis the rate of inflation? You discover that every time there is increase in the pump price of petroleum products, we have more than corresponding increase in the price of commodities and services. Right now, we have been told that inflation rate is not something we should jump about. We are trying to keep it below double digit rate but you and I know how successful we are. And it is paramount for government to ensure that the purchasing power of our naira does not diminish. It is unfortunate that our voodoo economists often come up with all sorts of indices to tell us that there is growth in the economy. But I reduce everything to the purchasing power of the naira in my pocket. What will it buy for me? How will it add to my overall wellbeing?
All these invariably will affect every other thing- life expectancy, infant and maternal mortality and any other things you can think of. These are things we cannot ignore. I am bound to respect the position of my constituents because invariably that is where I belong and that is where I am going back to. If invariably, subsidy removal becomes inevitable, how do we go about it? I believe all these issues about subsidy arise because of importation of the products. If it is going to take us three years to put refineries in place, we need to know. I remember very well during the Obasanjo regime that 17 licenses were given out.
What happened to the 17 licenses? It is only when you give licenses to those people with core competence that you can expect anything meaningful. Nothing stops us from having as many refineries as possible. What law says we must have only four refineries? If there is any law like that, then we must throw it out. We need private investors. We did it in communication industry, it worked. Today, nobody is talking anymore about NITEL. We only talk about it when we talk about their assets. Let's also do it in power. In doing it, of course, we will step on toes. In doing it, some people will be hurt. But as, they say, you cannot eat omelette without breaking an egg. So, if we have to make certain sacrifices to get things done, why not?
Is the timing of this subsidy auspicious at all given the security challenges facing the nation today?
I am sure those in government are getting their feedback in their own way. And I am sure they will do the right thing. They've been consulting with different segments of the society. They should get the aggregate opinion of the people and act on it. There are lots of things that need to be provided now. I don't think this fire brigade approach of forming safety net and palliative measures that are temporary in nature will be a solution to the issue at hand. We need solution to the problem of the country that will be sustainable. We are not supposed to be looking at temporary measures anymore. We have done that several times, it doesn't work. It is only an enduring solution that can offer a hope for the future.
With the proposed plan by the National Assembly to amend the constitution and the renewed agitation for creation of more states, what are you doing to ensure the listing of the newly created local government areas in Lagos State?
Honestly, state creation is a very contentious issue and it will never go away. Create 36 more states to make 72, we will still have more agitation. I am not saying that agitation for state creation is not genuine. Agitation for state creation is legal; people are free to ask for it. The constitution makes provision for it any way as long as you meet provisions for it. But I don't think that should be our priority now. That is my reservation about it. We must make the present states viable. It is not enough to create states, they must be viable.
There is hardly any state now where we don't have demand for more state. In some states, we have more than one. If on the average we have one agitation per state, it means we have 36 state agitations, which implies that we have 72 on the overall. Is that practicable? If we decide that every region should have one state each, how do we do it? Who will have and who will not have? For me, there are more pressing issues than state creation. There are economic issues, unemployment and power problem. Once we address all these problems, agitation for state creation will no longer be on the front burner.
And talking about creation of local government, the reason why more local government areas were created in Lagos State between 2003 and 2004 was to ease administration at that level. And, of course, several states too were already doing that but some of them quickly went back because of the pressure from the centre. Prominent among them was Katsina State. In order to solve the imbroglio necessitated by the need to list, we are looking into the possibility of removing the listing of local government from the constitution. Right now, what is stated is that regardless of how many number of local governments you create, it will not affect your allocation. If it will not affect my allocation, what is the point insisting on listing of local governments in the constitution? Besides, there must always be a referendum before any local government is created. The people must say yes or no to the creation.
Where the electorate, who in true definition of democracy is the sovereign, decides on having additional local governments, their wish automatically becomes binding. The Lagos electorate said they wanted more local governments and they have it. Nothing should be a stumbling block; nothing should disturb them from having it because that is the requirement. Therefore, another body should not hinder that desire by the collectivity of the electorate. State creation is more complex than that. But I have learnt not to say that anything is impossible. We thought we could not amend the constitution at all after various attempts but eventually something was done last session. And I am sure, a lot more will be done this session.
There is worsening plight of an average Nigerian today-hunger, unemployment and lack of power. What will be your advice to the President at this time?
During the budget presentation, the President did mention some of these issues which pointed to the fact that he is aware of the situation in the land. He also said that the budget was targeted at solving some of the problems. I want to believe that having identified the problems himself and making an attempt to solve it, what he would need is a strong political will to solve these problems. Nothing is done easily; nothing is done as simple as it looks when it comes to governance, especially in a complex society like Nigeria.
To govern a state in Nigeria, you need a lot of guts. To govern Nigeria as diverse as we are requires anything you can use, including competent hands as well. I believe the President knows that what he has on his hand is not a child's play. And it should be treated headlong. I think having identified the challenges; the man has solved some parts of the problems.
Flowing from what you have just said, what quality defines a responsible and responsive leader?
A responsible leader must be alive to his responsibilities. It now depends on what his responsibilities are. As a leader, you must be there for the people. You must be guided by their yearnings. You must protect their interest at any point in time. As a matter of fact, you don't have any other interest to protect other than their interest. If you are a local government Chairman or a governor or the president. You must identify the interest of your people. And you should be ready to go the extra mile to protect that interest. That will be my own definition of a responsible leader. A responsive leader, on the other hand, must be prompt in his response to the agitation of his people. But let me quickly add that both go hand in hand. You can't be one and not be the other. That is why most times you find people using both together.
And do you think we have somebody who embodies these qualities that we can really look up to in our polity for good governance and delivery of service to the people?
By saying this person meets that description, I am invariably saying that others don't have the qualities. Whoever, at any point in time, seeks to occupy certain position must have such attributes. But it is for the electorate to decide who fits into this. It is really not my duty to decide who is responsible and who is not. I also believe, to a large extent, in collective responsibility. We still need to do more.
We are not at the peak of our performance. We can do better than we are doing now. If we do more, it will translate to better life for Nigerians. Besides, what are the indices we are going to use to say that we are doing well? Statistics is not there. They keep saying that about 70 per cent of Nigerians are living below poverty line. Nobody has disproved it. They said that we should clap now that our life expectancy has increased by a year, bringing it to about 48 or 49 years. That means whosoever is lucky to be 50 is like being 90 in China and Japan. What are we talking about? We still have our mortality rate. We can do better and every level of government must wake up to its responsibility.
How valuable is your position in the National Assembly at this time?
You are asking me to assess myself. My position in the Senate now is that of minority whip. And I think we are expected as part of the minority in the parliament to collaborate where necessary with the other parties and also act as a check where necessary. These two we do for the ultimate benefit of Nigerians. As a member of the minority, you don't go with a mindset of antagonizing every single item. You collaborate where it will be beneficial to Nigerians and you oppose strongly where it will be beneficial to the generality of the people. Any majority party has the tendency to be tyrannical; so, those in minority should be there to oppose and act as a check on that tendency. That, I believe, is our role and that I see as my role as a member of the minority.
How easy has it been?
It has been very interesting. And as I said at the beginning, we now have a mature parliament and that we have been able to bring to bear on the collective role as lawmakers, especially at the Senate. If you watch our debate, you can hardly identify political leanings. People are mostly swayed by the merit of arguments on the issues on ground. And that perhaps distinguishes this Senate from other parliament.