100 FATHERS OF THE FAMOUS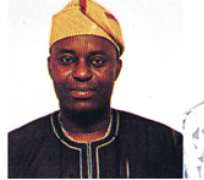 R.T. Briscoe boss, Seyi Onajide, 49, is a believer in the biblical injunction of honouring thy father so that thy days on earth would be long. He did just that with a talk-of-the-town grand reception in Ijebu-Jesha, his hometown, to mark the 80th birthday of his dad, Rev. Samuel Olasupo Onajide (JP). Amid the celebration featuring Gospel-Juju superstar Yinka Ayefele on the bandstand, Onajide found time to go on memory lane about his dad and to share some vital lessons:
****
One of the things I hold on to is hard work. Hard work doesn't kill. My dad has always said that. That is his maxim. You just have to be focused. I hate people that are not serious. I hate people that are not focused. You must have an objective. If you don't have an objective, it's like leaving your house and going to the bus stop without a destination. And when you reach the bus stop you ask yourself:
Where am I going? They ask you: where are you going? And you answer: I don't even know. That is how stupid it looks to me. I always tell my staff that how can you come into the office in a day and you don't have a target of what you want to do? That is why if you ask so many people, what have you achieved today, they can't answer you in concrete terms. It is because they have not set a target or an objective for themselves.
I owe a lot to my father, Rev. Samuel O. Olajide (JP). I used to think that as a father, he was a meddler. He would see any child lazing around during school hours and he would subject the child to interrogation: Why are you not in school?
What are you doing? What is your problem?
I took it that he was interfering in other people's affairs, but I discovered that he sees himself as a natural leader, and that 'your problem should be my problem-even if you are not my blood.' I have seen that trait in him and he is not the type of person that can play the backseat in anywhere he gets to, either in the church, or in the society. He is into everything, always trying to assist the community. He worked as a teacher then rose to be a senior manager with Hagemeyer until he retired in 1994. All along, he has always been a religious person. All his life he has been a church person. It was a natural progression that eventually, he became a reverend. His life has always been that of service to humanity. He has never earned a penny as a reverend. He just does it for humanity.
MARRIAGE COUNSELLOR
If there is an area where you can call him a specialist, it is in marriage counselling. My dad is known for that. He has saved so many marriages from collapsing. Before his 80th birthday, we tried to get him to write a book but unfortunately, we discovered that the time was too short. His desire would have been to write a book on marriage. I think he qualifies to write that book because his marriage is 51 years old. And he has saved so many marriages from collapsing. He has some very good tips based on experience. Some of his views are very unsentimental. For example, he has this view that you don't keep joint account with your wife. He has some radical views like that. And he is talking from experiences that he has had.
That in this part of the world, you don't do that. It's part of the teachings that he has educated us, that these things bring problems. You should not be foolhardy to do it. And he tries to explain why such things don't work in Nigeria. One reason is that we have extended families with different family responsibilities-both ways. So, coming to have a joint bank account is going to bring problems between husband and wife. But in the European way of life, once they are married, they forget about their family. They don't have any responsibility towards anybody. So, they take care of themselves and their immediate family alone. For them, it can work. Dad is trying to say that you have to look at your environment, look at the peculiarities of your environment and you don't just jump into what oyinbo man is doing and think it would work for you. Those are some of the ideas of my dad.
He was 80 on October 2. I decided to honour him with a reception. I did it for two reasons. He's been a wonderful father. There are some people that have parents and they don't have that kind of relationship that I have. I have a fantastic relationship with him. There is nothing I don't tell him. And there is nothing he doesn't tell me. We are very, very close. The bond between us is very excellent. And he tries to replicate that to all my siblings. That is just him. He is the kind of father who shows interest in your success. He wants to know what you are doing. If you are supposed to buy land and you have not bought it, my dad would be on your neck. He would push you. Where you are supposed to do something and you are not doing it, he is standing there. He is guiding you, advising you, praying for you. He wants nothing from you but your success. He tells me: 'The only thing I want from you is this name. I want to see it for good.' That is what he gives him joy. If you listen to his advice, you can't go wrong. It has always worked for me.
I WAS GOING TO FIGHT HIM
Not too long ago, a very good friend of mine and I fell apart on an issue that relates to money. I asked him to get something for me and the transaction was not straight. And I was going to fight him. I felt cheated. I felt like confronting him, but my dad said don't. He advised me not to. He said: 'Please, my son, leave him to God. Never fight with anybody over money. Next time, you will be more cautious.' And do you know that later the guy came to me and was apologising. And he made a confession that the step he was going to take was very bad. He didn't tell me whatever it was. But he felt he had to come and confess and beg me for forgiveness.
My father's advice is that when it comes to the issue of money, don't underestimate human thoughts. There can be an extent to which human beings can go. They can go to any length to get that. And I have this feeling that that was what the guy was trying to tell me. That he would have done something very, very bad. Whatever it was, he didn't tell me.
There is wisdom in children listening to their fathers. My father is a man of peace. He would never ask you to fight you anything. Instead, he would calm you down.