ILORIN BECOMES CHOICE LOCATION FOR YORUBA MOVIES PRODUCERS+THE OGA BELLO CONNECTION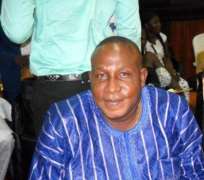 Ilorin,the Kwara State capital has in recent time been set alive with star actors visiting the place though not to party or relax from their very busy schedule but to work.
Before now most Yoruba movies are shot in the city of Lagos and this is owing to the fact that 80% of the actors reside in Lagos thus making it easier to get them and it also saves cost.But gradually this trend is fading as many producers are looking elsewhere or is it inward now for movie locations and this is on the premise that as good as Lagos State is for them,the fear of the Area Boys is a major factor that is affecting these producers as they have to settle area boys in every locations they go to shoot.
In Lagos these producers have to pay for houses used in their movies but outside Lagos houses are given to them free of charge with the house owner,even hosting them to sumptuous meals just because they have deemed his house worthy to be used.This among other perks have producers to look outside Lagos for their movie locations.
However,we gathered that the man who has been making producers to consider Ilorin is Otunba Adebayo Salami,Oga Bello as he is called,is an indigene of Ilorin and the erstwhile president of the Yoruba movie governing body,Association of Nigeria Theatre-Arts-Practitioners,and he has of recent made it a point of duty to his community to always go home to shoot his movies.
He always takes all cast and crew to Ilorin to make his movies and this has made even non indigenes who are producers to also see the beauty the serene Ilorin town.
Not only that,this is also assisting actors based in Ilorin as it affords them the opportunity of acting alongside the Lagos based actors.
Aside Oga Bello,another producer that has made it a point of social responsibility to the town which made him is Saidi Balogun who also hails from Kwara State and also started his acting career with the Kwara State Arts and Culture Council.
His movie Eti Keta was shot in Ilorin among other movies.
Other producers that are known to have embraced shooting their movies in Ilorin include all Oga Bello's children who are producers,Femi Adebayo,Sodiq Adebayo,Tope Adebayo.Others are Fathia Balogun who just concluded shooting a movie in Ilorin about three weeks ago and more recently is fast rising producer cum actress,Funke Etti.