Seyi Law insists Lagos must laugh on New Year's Day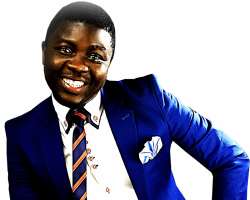 Lagos, Nigeria: December 16, 2011 - Stand-up comedian, and Mode Men Comedian of the Year, Seyi Law will put his fast rising profile to good use on New Year's Day when he stages his first comedy show at Muson Centre Lagos, and he calls the Show: Lagos Must Laugh with Seyi Law.
"For us, Seyi Law explains, "the Show is a new generation concert of side splitting comedy, rib cracking jokes, and unending punchlines by some of Nigerias new generation, very experience and very hilarious comedians. And that doesn't mean we are excluding our senior colleagues in the industry. We have the blessing and presence of Alibaba, AY, Jedi, and Omobaba, while Basket Mouth, Gbenga Adeyinka, Julius Agwu, and all comedians of the Federal Republic of Nigeria have been in their encouraging best.
"They have all pledged their 'witty' support and we can proudly say that on New Year's Day, Lagos and Lagosians must laugh unrestrainedly at the first jokes of the year and we hope laughter will continue for Lagosians all through 2012. That is the Unique Selling Point of Lagos Must Laugh with Seyi Law."
Known for smart, professional, and hilarious comedy, Seyi Law will headline the Show and will be joined by Mc Shakara, Emeka Smith, Elenu, MC Acapella, Akpororo, Pencil, and loads of other dynamic comedians on the star studded lineup. Musicians billed to perform the first songs of the Year, at the Show include 9ice, Wande Coal, Olamide, Ruggedman, Jah Bless, Sean Tero and a whole lot of entertaining others.
Lagos Must Laugh with Seyi Law will be the first of what would be an annual train of Comedy Tour by Seyi Law. Akure Must Laugh follows immediately in February, Abuja Must Laugh in April, London Must Laugh, and Manchester Must Laugh also in April, Washington Must Laugh in July, Accra Must Laugh in November, and by December 2012, Port Harcourt Must Laugh with Seyi Law.
Insisting, Seyi Law says "Lagos Must Laugh with Seyi Law is not just another comedy show: it's a party, it's a promise, and it is prophetic."
Contact:
Contact Person: Prince Olaiya (CEO, el-innovations & Ideas)
Phone: +234 703 840 6465
email: [email protected]
BB: 3242CE18
Image attachments:
Seyi Law.jpg
717 KB View Download