I can wear anything, for comfort and flexibility------Blessing Effiom-Egbe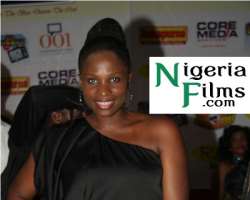 Before she began her career in the movie industry, Blessing Effiom-Egbe had already made a mark in the fashion scene, appearing in many television commercials, promoting several products and services in the US, South Africa, United Kingdom, France and many other countries of the world.
The University of Calabar Theatre Arts graduate, who had worked with international models including Tyra Banks in the America Next Top Model Competition, later attended City Varsity Film College, Cape Town, South Africa to hone her skills in acting and filmmaking.
With credits including The Vow, After The Vow, African Queen, Walking The Lane, The Rivals, the scriptwriter, producer and actress recently added Two Brides And A Baby to the list of major flicks that she has done. Effiom-Egbe shares her style and dressense with DANIEL ANAZIA.
What was growing up like?
It was interesting. I grew up in a barrack in Port Harcourt, Rivers State. I enjoyed the simplicity of life where everyone had a close-knit life and family was key. There were no problems of insecurity and uncertainty of the government and economy. Though my dad died when I was just four years, life was good. Back then, I used to come tops in party dance, to the extent I was invited to participate in governor's party.
What's fashion to you?
Fashion is the outer reflection of one's inner mind and attitude.
Uniqueness of style
I'm myself and I represent every woman. I look out for comfort and flexibility in whatever I choose to wear.
Favourite colour
Black and earthy colours. Black, as a result of its multi-functionality; and earthy colours for the same reason aside from bringing out my skin tone to the best.
Favourite piece of clothing
The little black or nude inner wears.
Favourite signature scent
Opium! I fell in love with it because it appeals to my wellness.
How often do you improve on your wardrobe?
Anytime I see something I like, I buy. There's no hard and fast rule to it, but I do the bulk of buying whenever I travel.
Most expensive item ever bought
A bag worth £ 2,700.
Favourite designer(s)
In Nigeria, it's Frank Osodi of Bunor Creazioni; internationally, I'm leaning towards Vera Wang. She knows the woman body and how best to adorn it.
What would you not be caught wearing any day?
I can wear anything oh; it depends on occasion and reason for wearing them.
What would you consider as fashion faux pax?
Wearing what I know isn't me, but doing it to please or to be considered fashionable.
What is on shopping list for the month?
Wipes and pampers. Then for me, it would be hair removal cream and noodles.
Favourite food
Give me Ekpang Nkukwo and I will script for you all day.
Likes
Transparency, calling a spade a spade. Telling it the way it is.
Dislikes
Cheats, liars, double-face people and selfishness.
What would you consider sexy in both men and women?
People say confidence is sexy, but if a person isn't physical, no matter the loads of confidence he or she exudes, such a person in my book doesn't count as sexy. With being sexy, what you see is what you get.
Craziest thing ever done in life
Sorry, it's so crazy that I can't say it. Na my mouth you wan hear say one Titus fish na 5000 Naira?
What distinguishes you from other actresses in the industry?
My person and lifestyle.
Philosophy of life
Planning makes a complicated workload easy. And whatever you imagine in your mind, with hardwork and perseverance, it will be possible.