FALSIFY AGE, FORFEIT YOUR PLACE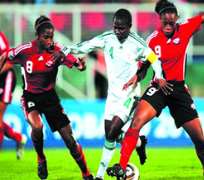 The Nigeria Football Federation (NFF) has warned players being screened for the new Under-17 women national team to think twice about falsifying their ages, as the NFF would eventually detect and send such players out of camp without ceremony.
Chairman of the NFF Technical Committee, Barrister Chris Green, made this known to the players yesterday evening as the girls played a match against an Abuja-based Under-15 boys' team at the NFF's FIFA Football Turf.
'The NFF wants to make this clear now: There is zero tolerance for age cheating. We no longer have any patience for players who would come to the national team, falsify their ages to be able to play age-grade competition and fail to fulfill their potentialities years after.
'I am telling you girls to come clean and tell us your true ages. We will investigate all those players who eventually pass this screening exercise and get to know their actual ages.
'Anyone found to have deceived the federation, even if she passes, would be sent packing. We are not joking. The NFF would not tolerate cheating', said Green.
Green also charged the ladies to hearken to the instructions of their coaches. 'It is important for you to listen to your coaches and follow instructions. This is the age when you can learn and learn well. You also need to have dietary discipline, for you to always stay fit'.
The Nigerian Under-17 girls will take on the winner of the fixture between Kenya and Mozambique in the race for a place at the FIFA Under-17 Women's World Cup coming up in Azerbaijan, September/October next year. The first leg between the Flamengoes and either Kenya or Mozambique will take place on January 22, with the return leg in Nigeria two weeks later.
Thirty-seven girls are now in the camp of the Under-17 Women team.
Also at the training ground to watch the Flamengoes in action were NFF General Secretary, Barrister Musa Amadu, Director of Technical, Dr. Emmanuel Ikpeme, Director of Competitions, Dr. Mohammed Sanusi, members of NFF Technical Committee Etubom Paul Bassey and Barrister Austel Elumelu, as well as ex-internationals, Siji Lagunju and Rafiu Yusuf, both of the NFF Technical Department.