Futures Signal Slight Rebound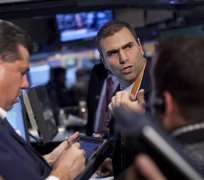 Futures pointed to a slight rebound on Wall Street on Tuesday, with futures for the S&P 500 up 0.46 percent, Dow Jones futures up 0.41 percent and Nasdaq 100 futures up 0.34 percent at 5:28 a.m. ET.
* European stocks inched higher in morning trade, following the previous session's sell-off, but the rebound was limited by simmering fears of mass euro zone sovereign ratings downgrades that kept investors on edge.
* Investors' focus will be on the outcome of the Federal Reserve's meeting on Tuesday, with the Fed seen holding off offering the U.S. economy fresh stimulus as it weighs encouraging signs on the recovery against risks coming from Europe.
* On the macro front, investors awaited November retail sales, as well as business inventories.
* Exchange operators NYSE Euronext (NYX.N) and Deutsche Boerse (DB1Gne.DE) on Tuesday offered more divestments in a bid to assuage European authorities' antitrust concerns over their proposed $9 billion merger.
* Washington Mutual Inc (WAMUQ.PK), the biggest bank to fail in U.S. history, said it reached a settlement in a dispute between shareholders and certain creditors that had prevented the bank emerging from Chapter 11 bankruptcy proceedings.
* Medtronic Inc (MDT.N) has agreed to pay $23.5 million to settle allegations that it paid kickbacks to doctors to encourage them to use its pacemakers and defibrillators, the U.S. Justice Department said on Monday.
* HTC Corp (2498.TW), the world's No.4 smartphone maker, has filed a criminal complaint against Citigroup Inc's (C.N) Taiwan unit, alleging the bank published false information that led to a fall in HTC's share price, a Taiwan prosecutor said on Tuesday.
* U.S. stocks tumbled on Monday, as concerns about Europe returned to the forefront after major credit rating agencies warned European leaders had not done enough to tackle the region's debt crisis.
* The Dow Jones industrial average .DJI was down 162.72 points, or 1.34 percent, at 12,021.54. The Standard & Poor's 500 Index .SPX was down 18.70 points, or 1.49 percent, at 1,236.49. The Nasdaq Composite Index .IXIC was down 34.59 points, or 1.31 percent, at 2,612.26.
REUTERS